In 2016, the appearance of coastal resort villas boasting international 5-star brands created a fierce competition in the coastal second home market. With the strict standards of prestigious international management companies, these resort villas ensure the quality in design, construction, operation, management and maximum profitable efficiency.
Super Movepick Villas bearing the international brand
Unmet demands
In 2015 and before that, investors quickly "put money on the table" once they realised the benefits of owning a beach villa and the profitability of this investment channel. But in 2016 experienced investors will compare among beach villas to see which one possesses the most outstanding competitive advantages. Investors no longer invest in coastal resort villa products with low investment into quality. Instead they will seek high quality products in terms of design, construction, operation and management.
When talking about high class coastal resort villa products, besides developer reputation, investment policy and geographical location of the project, the operating company is an important factor. Vietnamese have a saying, "The products' durability depends on the users." Operators with high standards and professional management procedures will protect and increase the value of the resort real estate over time. On the other hand international operators also attract foreign investors into Vietnamese resort real estate.
According to Matthew Koziora, transactional director of real estate investment fund VinaCapital, the coastal resort real estate in Vietnam has not been exploited to its whole potential.
"In some areas such as Phu Quoc and Vung Tau, there are still very few projects that can match the quality standard in order to attract the international investors. Almost all investors are Vietnamese living in Hanoi or Ho Chi Minh City. Although international investors are interested in Vietnamese coastal resort real estate, they demand more in terms of quality and projects scale," he said, adding that there are also many obstacles and restrictions legal-wise.
"If the Vietnamese government invests more in infrastructure and the policies are more flexible, it will attract more foreign investors in the segment of resort real estate," he said.
Eurowindow's offering
Foreseeing the needs of domestic and foreign investors for the resort real estate with high-class management, Eurowindow is currently investing in two 5-star resort areas at Bai Dai, Cam Ranh – Radisson Blu Cam Ranh managed by Carlson Rezidor Hotel Group and Mövenpick Cam Ranh Resort managed by Mövenpick Hotels and Resorts Group (Switzerland).
Within Mövenpick Cam Ranh Resort the developer has set aside a part for Mövenpick Villas and Mövenpick Condotel with special incentives for secondary investors.
"We are very enthusiastic about this project. Mövenpick Hotels and Resorts currently manages a large number of properties worldwide, but Mövenpick Cam Ranh Resort will be the first resort we manage in Vietnam, which is a key market for us and our expansion plans," said Andrew Langdon, senior president of Mövenpick Hotels and Resorts Group.
"For this resort to truly represent our Mövenpick brand, we will ensure excellence in design, construction and management, to guarantee the delivery of 5-star international standards which we are known for. With the knowledge and experience we have gathered through years of managing our properties, we believe Mövenpick Resort Cam Ranh will be an exceptional resort which delivers quality and results," he said.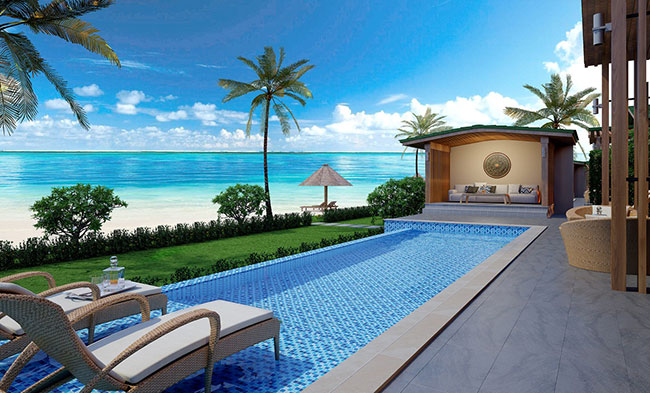 100 per cent Movenpick Villas, living rooms and bedrooms are facing the sea and posses sea-view
According to Hannes Romauch, Eurowindow Nha Trang's general director, the 121 luxury Mövenpick villas lead the high-class resort real estate segment in the market due to many unique features, one of which being that all of the villas have only one floor. The living room and bedrooms have a view of the sea.
"The villas also have flexible policies. Buyers can participate in the sub-lease programme with high profits and also have the right to live in the villa for up to six months per year. The developer committed to share 85 per cent of the rental profit with the customers and the profitability is not less than 10 per cent per year within 10 years. In addition, to ensure greater safety for their investment, the purchasers can choose the guarantee plan of VPBank with a profit commitment of a minimum 9 per cent per year for 10 years.
"The presence of a resort real estate product under the Mövenpick brand with many competitive features brings in more options for domestic and foreign investors. Moreover, with Mövenpick Villas, purchasers can trade and transfer the properties under the Mövenpick brand," said a resort real estate investor.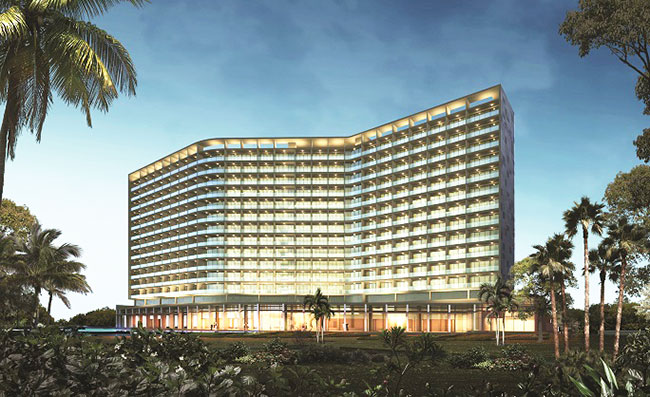 Movenpick Hotel, an international standard 5-star hotel
Bai Dai, Cam Ranh, has recently been singled out by the Khanh Hoa People's Committee for a focus in investment. Infrastructure in the area is going to be improved to meet the growing tourism needs. Together with a flawless beach, impressive architecture, and international-standard management, the infrastructure will firmly strengthen the tourism potential of the area and the attractiveness of the Mövenpick Cam Ranh Resort project as an investment.
Mövenpick Resort Cam Ranh is a 5- star luxury hotel project designed by famous architects in the world with both modern and traditional style. The resort consists of 121 luxury villas, 250 rooms 5-star international hotel and 96 apartments in Condotel resort which will provide amusement services including Swiss village, golf court, tennis court, beach club, restaurants and children playground.Beach resort property is becoming a highly profitable and attractive investment channel. To get investment consulting, please contact us via 0932888008 or visit the website: villa.movenpickcamranh.com
By Hong Anh
The article "Mövenpick Villas to heat up Vietnam's second home market" was originally published on http://www.vir.com.vn/m-venpick-villas-to-heat-up-vietnams-second-home-market.html