Pattaya, Thailand: Wendy Cole is primed to deliver a thought-provoking keynote address on 'Sustainability and Golf' at next week's Asian Golf Industry Federation (AGIF) Turfgrass Management Exposition.
Wendy Cole
During her presentation, Cole, Manager, Sustainability at The R&A, will challenge delegates from around the region to embrace sustainable practices.
Cole said: "The R&A considers sustainability in and through golf to be the sport's contribution to wider society and the effect the game has on nature and resources, delivered by enduring businesses which provide a positive sporting, environmental and social legacy for future generations.
"The R&A strongly advocates sustainability across the nature, communities and resources agenda. To be considered sustainable, the golf operation (be that a new development, existing facility or golf tournament) should protect nature, benefit communities and conserve resources."
Course superintendents and club managers from Thailand and across Asia will attend the seventh edition of the event that is being hosted at Siam Country Club's Plantation Course on March 11 and will showcase the very latest in golf course equipment and machinery.
Held under the auspices of the Thai Golf Course Superintendents' Association (TGCSA), the Expo is part of a three-day gathering in the Central Thai beach resort that is highlighted by a high-profile conference on Sustainable Turfgrass Management in Asia.
The conference at Dusit Thani Pattaya Hotel (March 12-13) is organised by the TGCSA and the Thailand Golf Association, with support from The R&A and the Sports Authority of Thailand.
Working closely with the TGCSA, the AGIF Turfgrass Management Exposition will feature an array of equipment from 30-plus exhibitors as well as extensive product demonstrations.
Eric Lynge, the AGIF's Chief Executive Officer, said: "We are delighted that an authority of the standing and reputation of Wendy Cole will be with us in Pattaya to lead the discussions about this crucial topic.
"The R&A is a global organisation that continues to lead by example and, like the AGIF, is committed to ensuring the game is thriving 50 years from now.
"In her presentation, Wendy will highlight issues such as land use, water, pesticides and pollution, climate, energy, waste and wildlife.
"Our hope is that this will act as a catalyst for us all to redouble our efforts in regard to sustainability and golf."
Following the AGIF Turfgrass Management Expo and a networking lunch, Andy Johnston, General Manager and Director of Agronomy at Sentosa Golf Club, will talk about Sustainable Practices at the award-winning Singapore club.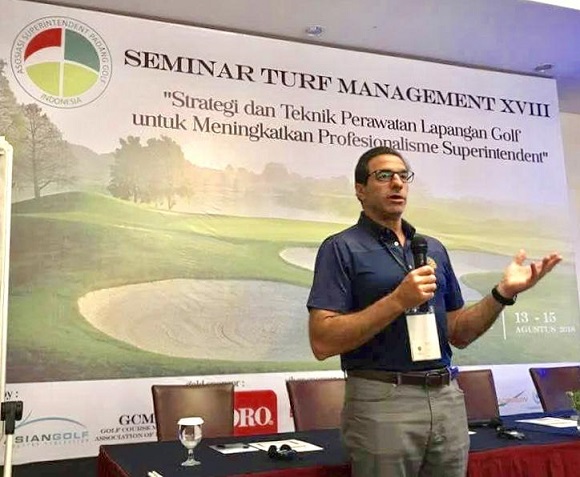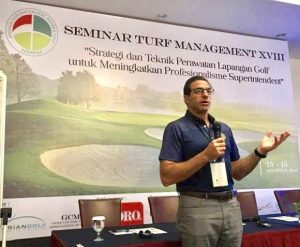 Chris Gray will present a case study on Golf Environment Organisation Certification.
Completing a busy day, Chris Gray, Director of Golf Course Maintenance at Singapore Island Country Club, will present a case study on Golf Environment Organisation (GEO) Certification.
Emphasising the AGIF's aim to support the entire industry, Lynge confirmed that the field day is open to members and non-members of the Federation.
In 2018, the AGIF organised two Turfgrass Management Seminars and Field Days in Vietnam and one each in Indonesia, Malaysia, the Philippines, Taiwan and Thailand. There was also a stand-alone Mini Summit in each market in addition to Club Management Association of America's Certified Club Management degree education sessions and the first in a series of Certification in Greenkeeping.
In the first half of this year, in addition to Pattaya, the AGIF is looking at staging the Philippine Golf Course Management Conference at Cavite's Orchard Golf and Country Club on May 9-10.
In the second half of 2019, there will be the Vietnam Turfgrass and Club Management Mini Summit in Danang in July (date and venue to be confirmed), the Indonesian Turfgrass Management and Club Management Mini Summit in Jakarta (August 19-20), with events in Malaysia and Taiwan to follow.
Dates and venues for further Certificate in Greenkeeping and Club Management events will be released in the coming weeks.
For more information, please contact the AGIF at eric.lynge@agif.asia
---
The article "R&A's Cole to Tackle Burning Topic of 'Sustainability and Golf'" was originally published on https://www.agif.asia/2019/03/ras-cole-to-tackle-burning-topic-of-sustainability-and-golf/