Property consultant Savills Vietnam has recently been appointed as the consultancy marketing and exclusive sales agent for Hoa Binh Green City development, a joint investment between Hoa Binh Group and Agrexim JSC.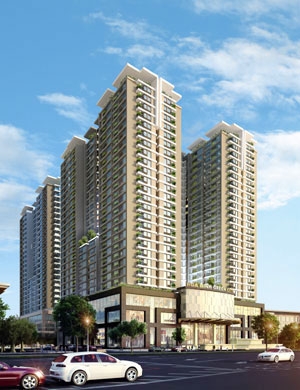 Perspective Projection
Located at 505 Minh Khai street, Hai Ba Trung district, Hanoi, Hoa Binh Green City features 2 residential towers of 27 floors stretching over an area of 1.7 hectare.
With a vision to bring in a fresh and green space for its residents, Hoa Binh Green City was exceptionally designed with rooftop gardens, which, together with the utilisation of environmental friendly construction technologies and materials, have truly made Hoa Binh Green City a harmony between human and nature, while helping the residents to save energy.
Expected for completion in 2014, the development will anchor the southeast Hanoi as one of the most awaiting properties.
Strategically located on the arterial traffic of Hanoi center and only 3.5km away from the Hoan Kiem Lake, this development is surrounded by bustling residential areas with a completed infrastructure.
The application of green design and construction to create environmental friendly apartments is among the development's top strengths.
In addition to green landscapes, Hoa Binh Green City has also applied state-of-the-art technologies that help to save energy, optimise natural energy from the sun and wind, while ensuring the safety for its residents' lives.
The project used adobe brick – an environmental friendly building material. Nguyen Huu Duong, general director of Hoa Binh Group said: "We are meticulous in and care about the quality of work, which helped us to create our own name after projects such as high-end service apartments Somerset Hoa Binh and the luxury apartments Hoa Binh Green Apartment. With Hoa Binh Green City project, we decided to cooperate with Savills.
According to Guy Major, national sales director of Savills Vietnam, with many advantages of geographical location, infrastructure and proper investment, Hoa Binh Green City would definitely deliver optimal choices to the buyers.
Hoa Binh Green City's apartments have a range of areas from 65 to 126 square metres with full facilities for the residents such as underground parking, gardens, in-door and out-door children's play area, four seasons swimming pool, fitness center, shopping mall, rooftop golf courses… The mock-up apartments are expected to be launched for sale in September 2011, bringing more options for Hanoi real estate market.
Bich Ngoc (vir.com.vn)
The article "Savills Vietnam becomes exclusive sales agent for Hoa Binh Green" was originally published on https://www.talkvietnam.com/2017/03/savills-vietnam-becomes-exclusive-sales-agent-for-hoa-binh-green/