Continuing the series on the Bluffs ho tram strip's course enhancements, VGM talks to superintendent Ali Macfadyen about the new exciting environment taking shape.
WHAT DO YOU EXPECT TO ULTIMATELY ACHIEVE WITH THIS PROJECT?
We plan to fnish removing all excess turf and vegetation by the end of Q3 2018. Our objective is to have a more sustainable course that is in optimal condition, year-round. We'll save on water, fertilizer, insecticide and fuel costs as well as improve the natural dune look throughout the course and speed up play because it'll be so much easier for players to fnd their golf balls.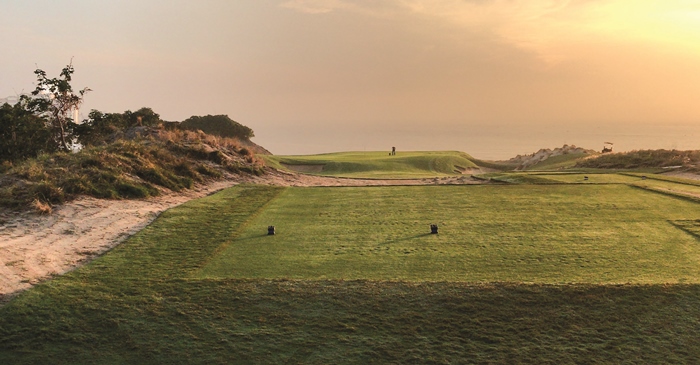 IS THERE ANYTHING ELSE YOU'RE WORKING ON, ASIDE FROM THE COURSE ENHANCEMENTS?
By the time this article is published, we expect the rebuild of our primary practice green to be completed. We are lowering it by one metre to enhance viewing from the clubhouse and making it bigger to give players more space. Joshua Payne of Greg Norman Golf Course Design arrived on December 12 to help with the putting green and enhancements. We are going to make Lake 8 deeper and bigger, so it can better cope with excessive rainfall and provide us with an additional source of irrigation. We also plan to extend the cart paths to reduce turf wear.
ARE THE RESULTS YOU'RE SEEING MEASURING UP TO WHAT YOU ANTICIPATED FROM THIS PROJECT?
Yes, everything is going as planned. We now have consistent playing surfaces due to increased air movement and sunlight exposure, and the turf is much less prone to disease.
The post The Bluffs enhancements appeared first on VGM Viet Nam Golf Magazine.
The article "The Bluffs enhancements" was originally published on http://vietnamgolfmagazine.net/en/the-bluffs-enhancements/