Many younger players are climbing up the leader boards in tournaments, so is it time for the "seniors" to step aside and let the younger lions have their day?
By Robert Bicknell
Ah, another New Year is upon us (Western and Lunar) and that means an entire year of opportunities. Yes, opportunities to succeed and thrive, and opportunities to shoot yourself in the foot – but the choice is yours. Just like in golf. Strange how life and golf seem to parallel each other so well. Perhaps that's what makes golf so unique.
Anyway, the powers that be here at Vietnam Golf Magazine have asked me to look at the possibilities of younger players replacing older ones, especially in tournaments. While it's true that many younger players are beating the older folk, that's just a natural evolution and part of golf and life itself.
However, I know they're taking a playful dig at me for being old. Hey, 60 isn't really "old" is it? OK, sure, I cannot play tournaments anymore due to arthritis, but I can still manage clubs successfully (If anybody is looking, I'm available – hihi). So, I'm "semi-old" (which is the same as being "semi-retired) – both suck.
Anyway, the editors have noticed that a lot of younger players are climbing up the leader boards in tournaments and they wonder if it's time for the "seniors" to step aside and let the younger lions have their day.
To which I reply – no.
If the "Young Lions" want to reign supreme, they have to earn it. Besides, haven't they heard the story of the "young buffalo and the old buffalo?" If they haven't, someone should explain it to them as there's a good lesson to be learned.
Now, having said that, I do think the clubs need to be more proactive in addressing the needs of the younger players, especially juniors.
While the "senior" players (meaning anyone over 30) are the ones providing income for the clubs, we have to recognize that it's the younger generation of players who will step into that position in the near future. But, only if they are nurtured and brought along correctly.
Towards that end, I would recommend the clubs begin to hold some special tournaments for the different levels of players, along the same lines as U23 football. There's no reason why a club cannot hold an "Under 23" style tournament for these players. Or even an "Over/Under" type event where a player over 50 pairs with a player under 20 years old.
The main thing is to get these kids into more events and keep their interest.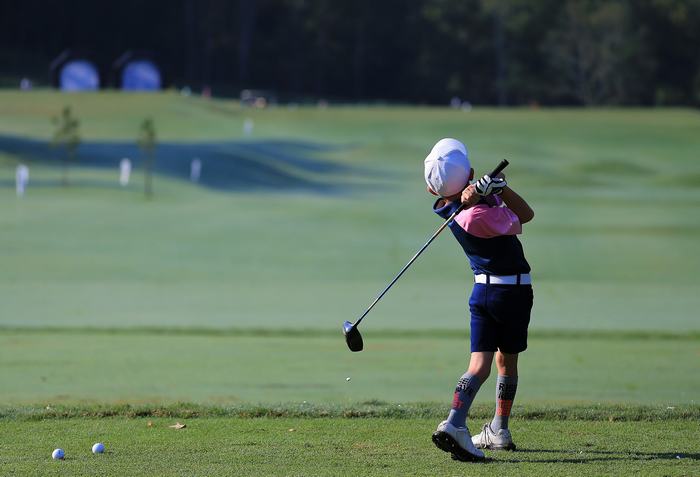 When I was young, I dreaded playing in club tournaments because there were only five or six of us under the age of 18 and we had to play with the "old geezers" (which, sad to say, I am now one of) and deal with their cigar smoke, beers in the halfway house and being called "kid" throughout the round. It really wasn't a lot of fun, but I did enjoy outdriving them by 100 yards or more and generally beating their brains out for the most part.
But playing with kids my own age was definitely more fun, especially as they had the same frame of reference as I did, enjoyed the same sense of humor and played fast.
So I can definitely see tournaments where there are age brackets, or even tournaments which prohibit anyone over a certain age limit, but the problem with this is that the older players will not be happy giving up their course to younger players, especially here in Vietnam. I envision many calls to the chairman of the club with a lot of screaming and threats.
"I want what I want when I want it and don't you dare tell me no because I'm important!"
So, arranging time for these type of age restricted events would be a very delicate matter to begin with in terms of dealing with members. But, also the times which the kids are available to play as they have school or work (16-23 age group).
And, to be fair, golf is a business and they have to earn enough to keep the course maintained properly, pay the salaries and keep the lights on, so upsetting the people who pay the bills isn't a great idea. Yet, there needs to be a middle ground, which keeps clubs open and yet grows the game by bringing kids into it.
The bottom line is that I will always support junior golf and I do believe there should be age brackets for tournaments. The problem is getting not only the clubs, but the older players to accept it.
It can be done.
-00-
Đăng bởi Hà Phan
The article "The possibilities of youth" was originally published on https://vietnamgolfmagazine.net/en/the-possibilities-of-youth/