The Ryder Cup Is in France, but Where Are the French?
PARIS — The Ryder Cup is finally being staged in France, but no French players will be taking part.
Since the Cup began in 1927, this will be the first time in its 42 editions that the host nation will not have a golfer in the competition because none qualified.
"It's a failure, no doubt," said Pascal Grizot, president of the France 2018 Ryder Cup Committee.
But Grizot and those who have spent years preparing for the tournament, which will be held at Le Golf National outside Paris this week, did get quite a surprise consolation prize.
That would be Tiger Woods, whose unexpected resurgence this season put him back in the 12-man lineup for the American team as a captain's pick. Woods was initially set to come to France in a nonplaying role as a vice captain, doing the same cheerleading job he did at the last Ryder Cup in 2016 at Hazeltine National Golf Club near Minneapolis.
"Tiger was coming to France as a tourist, and now he's coming as a player," Grizot said. "I can say this only to an American journalist, but if you had the choice between a French golfer and Tiger Woods for this Ryder Cup, I would have chosen Tiger Woods. And that's for just one reason: because he can transform nongolfers into golfers."
Raising the sport's profile and participation levels in France were the primary goals for pursuing the Ryder Cup. Grizot, a former captain of the French national team, was instrumental in the chase, leading the bidding team that secured the event in 2011.
When Grizot and his team started the bidding process, France was also in the midst of its successful bid to host the European soccer championships in 2016.
"All the journalists in France were saying to us, we know what Euro 2016 is, but we don't know what the Ryder Cup is," Grizot said.
There is still far from universal awareness, and soccer's shadow is even larger now in France with the French team winning this summer's World Cup in Russia.
"People don't care about the Ryder Cup," Michael Lorenzo-Vera, a French golfer, said in June. "Honestly, nobody knows there's going to be a Ryder Cup in France. Only the golfers know. That's it."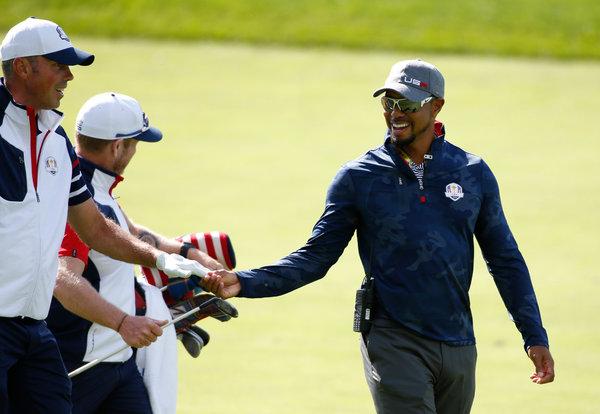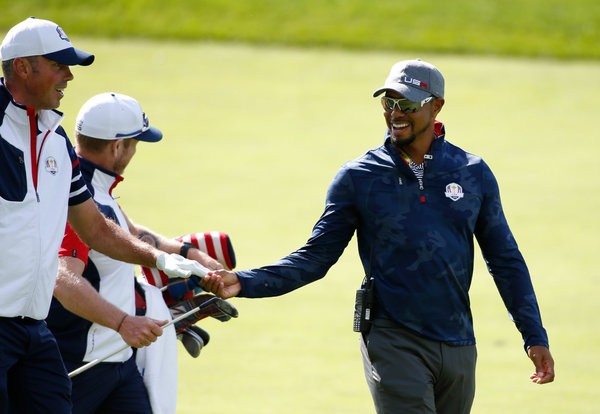 Grizot disagrees. "Forty-four percent of the tickets for the Ryder Cup have been sold to the French," he said.
One of those expected to attend is Édouard Philippe, the French prime minister. Grizot said the Cup had been sold out for months. The original plan to attract more than 60,000 spectators per day was downsized for security reasons and to ease transport concerns. But more than 50,000 fans were expected for competition on Friday, Saturday and Sunday, despite there being no pedestrian access to the course in St.-Quentin-en-Yvelines. About 35 percent of those who bought tickets are British or Irish; 14 percent are American.
There are clearly limits to how far the sport can rise in France's pecking order. It experienced rapid growth in the 1990s and early 2000s, but has struggled, as have many golf federations worldwide, to maintain that momentum.
The French Golf Federation has about 410,000 card-carrying, dues-paying members, down from a high of about 425,000 in 2012. Grizot said there were about 780,000 golfers in the country.
By comparison, a consortium of American golf governing bodies and industry partners recently estimated the number of golfers in the United States at 23.8 million.
In terms of membership, the French Golf Federation ranked seventh in the country in the most recent government count, well behind the leader, the French soccer federation, which had more than two million members. Tennis ranked second with just over one million members.
"Football is king in France, at least for four more years," said Jean van de Velde, who in 1999 became the first Frenchman to take part in the Ryder Cup and is playing an ambassadorial role this time.
But there has been an effort to capitalize on the tournament, including the construction of nearly 100 compact golf courses close to major population centers and a recently completed 11-city tour throughout France to promote the event outside the Paris region.
"Golf is not very visible on television here in France, and there is lots of competition," said Pierre Lasfargue, a director with the French Golf Federation who helped lead the tour. "The Ryder Cup is a comet that passes every two years, and only every four years in Europe, so there's not been a lot of knowledge of it out there in France. But now there are quite a few more who know about it."
Another goal is to put France on the map as a golf destination for foreigners, particularly Americans.
"The first time I went to the U.S.A. to speak about the Ryder Cup bid, the first thing that a very famous American architect told me was that he didn't even know there were golf courses in France," Grizot said. "That was quite something to hear."
In Paris, the French organizing committee has put in place a 10-day program around the Ryder Cup with a fan zone and daily activities.
"I had the good fortune to attend Ryder Cups in Europe and in the United States," Grizot said. "And I was struck because the United States is the world's leading nation in golf, but the Ryder Cup, when it was played outside of Chicago, you could not imagine when you were in Chicago that the Ryder Cup was being played nearby. It was the same last time in Minneapolis.
"So in Paris, we've tried to do it differently with this 10-day program. It's now or never, because after all we're doing, if there are not more golfers in France, sadly we will have a problem."
A big Ryder Cup boost remains far from certain.
"Personally, I don't see it," said Gilles Jourdan, a former director of the Open de France, the regular European Tour stop at Le Golf National. "I think they have made a bad calculation because there is just so much work to do. I'm a golfer, but. …"
He exhaled, like a homeowner looking at a flooded basement. But Jourdan, who is now director of the expansion project for the French Open tennis tournament, does think golf could get a longer-term lift from the combined impact of the Ryder Cup and the Summer Olympics in Paris in 2024.
The Olympic golf tournament also will be staged on Le Golf National's Albatros course, the watery layout that opened in 1990 and has been significantly reworked since then. It has lots of space and fine sight lines for spectators.
"That course is made for viewing," Jourdan said. "I've been to Ryder Cups where you're standing in the fifth row and you see nothing. But the greens at this course are low, and as a spectator you are usually standing above them, so there's lots of room, which is great. What it doesn't have is much history."
The Ryder Cup can fill that void, however. The event has been providing intercontinental thrills for more than 90 years, and though the French who do find their curiosity piqued won't get to watch a Frenchman in action, they will get to watch someone quite likely more familiar.
"If there had been a French player, we in the federation would have been very happy of course," Lasfargue said. "But in France, Tiger is for a lot of people probably the only golfer they know."
A version of this article appears in print on , on Page B13 of the New York edition with the headline: A Tournament Opens in France, But Without Any French Golfers
. Order Reprints | Today's Paper | Subscribe
The article "The Ryder Cup Is in France, but Where Are the French?" was originally published on https://www.nytimes.com/2018/09/26/sports/golf/where-are-the-french-at-ryders-cup.html?partner=rss&emc=rss