Hanoi, Vietnam, Feb 24 — Australian PGA professional and long-time Asian golf club executive, Tim Haddon, has been appointed general manager of Sky Lake Golf Resort and Golf Club near Hanoi, Vietnam.
Previously general manager of Laguna Lang Co Golf Club near Danang, Tim Haddon's appointment follows the opening in November 2014 of Sky Lake's second 18-hole Sky Course. The resort's Lake Course opened in late 2012. The twin layouts have significantly raised the profile and quality of golf in the north of Vietnam, Asia's fastest-growing golf tourism destination.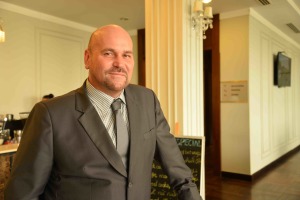 Tim Haddon – who has also worked in senior golf management positions in Malaysia, Thailand and Singapore – aims to position Sky Lake as an international brand with service and quality standards that make the twin courses a "must-play" golf experience for visitors to Hanoi.
"As a destination, Hanoi stands out from other parts of Vietnam," he says. "Every aspect of daily life, architecture and history are apparent in the city. It is where Vietnam's true culture lies.
"For golfers, Sky Lake also offers a unique experience, taking advantage of the environment and championship appeal to create a wonderful, world-class golf experience. At some stage we hope to host a professional tour event."
Jon Tomlinson, Asia/Pacific director of operations for IMG Golf, which provides management consulting services to Sky Lake Golf Resort, says the facility has the potential to be one of Asia's leading golf resorts.
"The quality of the championship courses, unique design, elevation changes and dramatic scenery make them truly challenging and strategic playing experiences. The Lake Course was voted by the Vietnam Golf Association in 2013 as the most challenging course in Vietnam. IMG believes it will grow and prosper to become one of Asia's leading courses. It is ideally complemented by the Sky Course, which offers a different experience and playability."
Weaving around Van Son Lake and offering stunning views of the surrounding countryside, Sky Lake's 7887-yard Lake course and new Sky Course were both designed by Korean golf course architect, Ahn Moon Hwan. The Sky Course's signature 15th hole soars above the surrounding countryside and has been named Dien Bien Phu after the pivotal highlands battle been French and Vietnamese forces in 1954 that resulted in France's withdrawal from Indochina. Hanoi can be seen in the distance on a clear day.
"Playing this hole and reaching the green on the summit feels like a victory in itself," Tim Haddon says.
About Sky Lake Golf Resort
SKY LAKE GOLF RESORT is owned by Korean consortium DKENC. It is located 45 minutes' drive south-west of Hanoi and can be accessed by the Thang Long freeway. Both the Lake Course and Sky Course are semi-private with limited public access.
Sky Lake is a member of IMG prestige, a group of leading golf properties around the world. www.imgprestige.com
About IMG Golf
IMG is a global leader in sports, fashion and media operating in more than 25 countries. IMG's businesses include Events & Media, College, Golf, Tennis, Performance and IMG Academy, Fashion, Models, Clients, Consulting, Licensing, Joint Ventures, and a creative management agency, Art + Commerce. In 2014, IMG was acquired by WME, the world's leading entertainment and media agency. Together, they offer an unparalleled client roster, strategic partnerships with sponsors and brands and marquee assets across sports, entertainment, events, music and fashion.
Paul Myers
February 24th, 2015
The article "Tim Haddon Appointed GM at Sky Lake, Vietnam" was originally published on http://www.asiantravelmedia.com/tim-haddon-appointed-gm-sky-lake-vietnam/