Vietnamese leading private group in finance, banking and golf resorts BRG Group has established a strategic relationship with Japan's Sumitomo Corporation to increase to collaborate in potential business sectors, especially the real estate and retail.
The co-operation, which was marked by signing a memorandum of understanding (MoU) on December 1, is considered a foundation to exploit and develop the two parties' potential during the co-operation progress in numerous sectors, including real estate, Nhat Tan-Noi Bai urban development project, high-tech agriculture and retail sectors.
In addition, it is also an important landmark, which supports for the two parties' expansion of business activities, simultaneously help to confirm the value of the two firms' brand.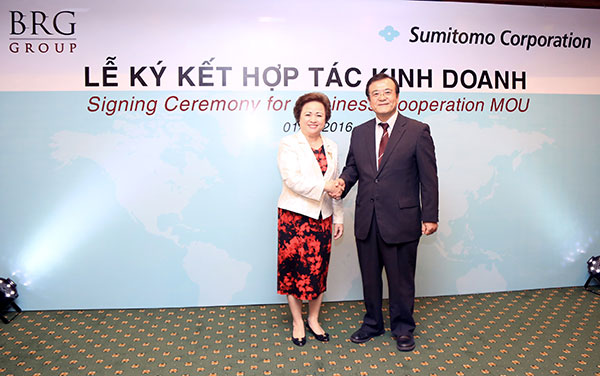 "Sumitomo sees BRG Group as a leading private group in Vietnam. We believe that BRG Group has characteristics we are looking for in a local partner. The MoU will lay the foundations of our partnership and enable us to work closely together on specific business agreements that produce new synergies and add value to both parties," said Masao Sekiuchi, CEO of Sumitomo Corporation Asia & Oceania.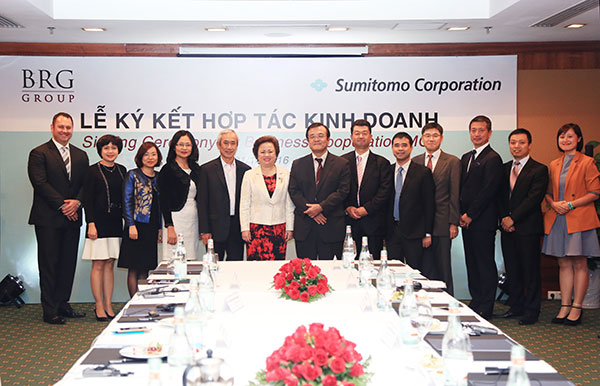 Established in 1993, BRG is an conglomerate, providing services in many areas, including real estate, hospitality, entertainment, golf courses, trade, retail, production, and construction. In real estate, BRG has developed projects in most major cities in Vietnam, with a focus on commercial buildings with the BRG Commercial brand, apartments with BRG Homes, apartments for rent with BRG Suites, and hotels and resorts with the BRG Hospitality brand.
With many projects invested basically, the group has confirmed its position through expansion of business activities and increasing to co-operate with domestic and foreign partners. The group targets to build a sustainable development, matching regional and international levels.
Meanwhile, Sumitomo is one of the largest trading and investment companies in Japan engaged in multifaceted business activities through a network of 132 locations in 67 countries worldwide with total 70,000 employees.
Sumitomo was first established a representative office in Vietnam in 1995, which became Sumitomo Corporation Vietnam LLC in 2007. Sumitomo has contributed broadly to Vietnam's socio-economic development through diversified business activities, including import and export, manufacturing and processing, development of industrial parks, power plants, urban railways, and many other meaningful corporate social responsibility (CSR) activities.
By Ha Vy
The article "BRG and Sumitomo embark in real estate and retail" was originally published on http://www.vir.com.vn/brg-and-sumitomo-embark-in-real-estate-and-retail.html