On May 20, Vietnamese developer BRG received the BCI Asia Top 10 Developers Awards for 2016 with its 5-star hotel, trade centre, and luxury condo project at 14 Tran Quang Khai Street in the northern city of Haiphong.
The project, located on a 8,300 square metre land plot, includes two buildings, namely the 5-star Hilton Hai Phong Hotel & Residences and the trade centre and luxury condo, representing a combined investment of VND2.2 trillion ($100 million). The project is expected to become operational in 2018.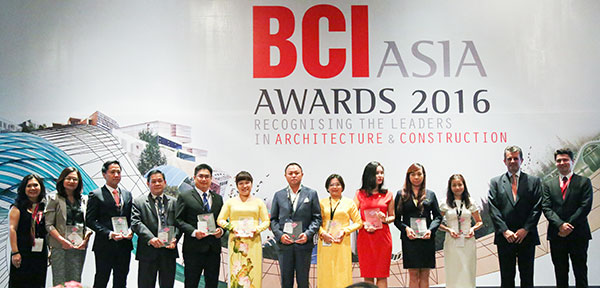 Other companies receiving the award included HBCI, MIK Group Vietnam Corporation Company Limited, Novaland Investment Group Corporation, Phuc Khang Corporation, SonKim Land, Sun Group, Tan Hoang Minh Group, TNR Holdings Vietnam, and Vingroup JSC.
BRG provides services in many areas, including real estate, hospitality, entertainment, golf courses, trade, retail, production, and construction. In real estate, BRG has developed projects in most major cities in Vietnam, with a focus on commercial buildings with the BRG Commercial brand, apartments with BRG Homes, apartments for rent with BRG Suites, and hotels and resorts with the BRG Hospitality brand.
In addition to the Haiphong complex, BRG has a range of projects for sale, including the AquaSpring project at 282 Nguyen Huy Tuong street, Thanh Xuan district, Hanoi, high-end apartment project Oriental Westlake at 174 Lac Long Quan, in Tay Ho district in Hanoi, and resort villa project BRG Coastal City in Do Son, Haiphong.
BCI Asia Top Ten Awards recognises the ten leading design and development enterprises that have made the greatest contribution to the built environment over the prior year. The awards are bestowed on the architectural and development firms with the greatest aggregate value of projects during the last full calendar year. These metrics are then weighed by the extent of their sustainability as established by BCI Asia's comprehensive criteria and confirmed green building ratings awarded through WGBC- accredited certifications. The award is handed out in seven different Asian territories, including Hong Kong SAR, Indonesia, Malaysia, the Philippines, Singapore, Thailand, and Vietnam.
By Hong Anh
The article "BRG named among top 10 developers in Vietnam" was originally published on http://www.vir.com.vn/brg-named-among-top-10-developers-in-vietnam.html