Rachel Johnson for The Mail on Sunday
Every year, come winter, my husband leaves me. He finds going solo to Cambodia, Thailand, Vietnam, Mexico – even Indonesia – more attractive than sitting out the cold with the missus in our basement kitchen. Who can blame him?
Fast forward to January this year, however, and I, too, want to take wing from the grey sleet like a migratory bird. We wanted light, heat, flavour, colour. The Maldives, Barbados? Too expensive. Florida? Too Trump.
Long story short, we thought Goa. We would balance out a deluxe night or two with a sand-in-your-toes beach shack. We would meet up with friends and take two of our kidults (they will come on holiday with you, but only if you arrange it and pay for everything).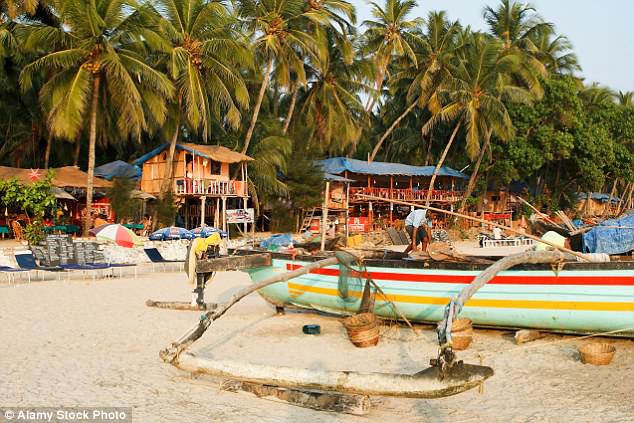 Catch of the day: A fishing boat on the beach at Patnem, the hippy hideout where yoga is king
Let us gloss over the fact that thanks to flight connections the first 36 hours were spent in Helsinki (and the impossible demands this made on the packing, ie down jackets, thermals, and my trousseau of Elizabeth Hurley beachwear to fit in my suitcase).
Yes, let's forget sub-zero Helsinki, as we have finally arrived in Goa. The hairdryer heat blasts us. Mr Cruz from the Vivenda Dos Palhacos, a boutique hotel on Majorda beach, is waiting. He threads us through a swarm of tuk-tuks, buses, scooters and children going to school, all the while honking on his horn and answering his mobile.
We drive past Portuguese churches, and villas painted in colours so bright you need sunglasses: pink, red, green, purple, yellow. Cows crowd the road. Mr Cruz calls them 'the traffic police' as he swerves around a school bus. We arrive at the gates of our first hotel. Bassett hounds are snoozing on the stone floors, breakfast is laid on a massive slab in the shade.
Our room is a colonial gem with overhead mahogany fans stirring the soupy air and a four-poster, plus grand bathroom with a claw-footed bath. There's a dinky cocktail bar lined with bottles of the ancestral house brew, Haywards Beer, and where the lethal special is a Marmalade Martini, made with real Frank Cooper's.
Alongside the explosion of much more deluxe (and costly) Indian boutique hotels, the Vivenda has an old-fashioned air, a whiff of Paul Scott's melancholy novel of post-colonial life, Staying On. It is my kind of place, but maybe not everyone's.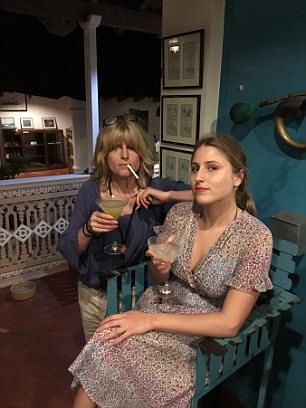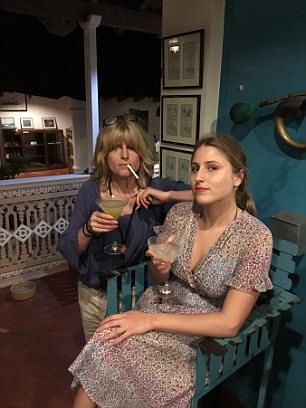 Relaxation time: Cocktails at Vivendi for Rachel and her daughter Milly
Majorda beach is a 20-minute walk away. A glorious 18-mile stretch of white sand and green surf dotted with a succession of Mad Max beach shacks flying pennants, hawking fish curries, mango lassis, Kingfisher beer.
I bestow new best friend status on Vivenda's owners, siblings Charlotte and Simon, and all the other guests (there are only ten rooms) but we know we've only just begun. We haven't reached entry-level India yet – Vivenda's a relic of Portuguese rule, a home from home – and it is time to slum it.
So Mr Cruz takes us to Patnem, the hippy hideout where yoga is king. Every other structure is an open-sided studio where scrawny types in Lycra are doggedly engaged in their 'practice'. We are lodged in a place right on the beach called Shiva's, a hencoop on stilts. It's fine it you want to get in touch with your inner hippy, but I would rate it as one down from camping.
Still, at only £25 per hutch per night, it seems ungracious to complain. After three days of yoga, swimming and feasting on pomfret, the local fish, we feel we've begun to earn our Indian spurs. The fireworks would start at 11pm, at midnight the dogs on the beach started barking, the surf crashes all night, and then, at 5am, the crows would start fighting on our roof. The rhythm of the Goan night did not, it appeared, include sleep.
By extreme contrast to Shiva's, the Taj Exotica, a five-star beachside palace, was the other end of the scale. From the ridiculous to the sublime. It has a golf course, a cricket pitch, tennis and a fish restaurant – and we had a sumptuous modern suite. 'At last,' our exhausted eldest cried, 'this is India. Why couldn't we stay here the whole time?'
Of course, five-star India has its attractions: I had the most ecstatic Ayurvedic treatment in the spa, while only wearing a Gandhi-style loincloth. And yet, and yet, our kids could not have been more wrong. It wasn't India, in fact one could not escape the feeling that we could have been anywhere – even Mar-a-Lago. Well-heeled international luxury is for citizens of the world, perhaps, but also citizens of nowhere.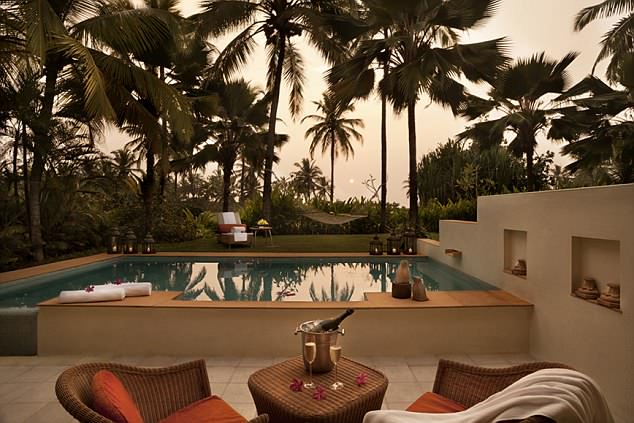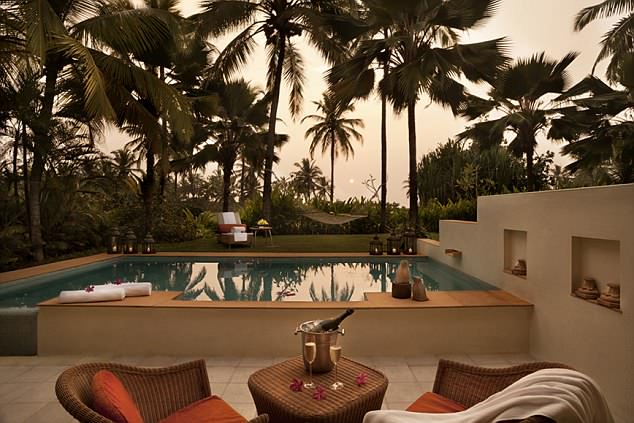 The Taj Exotica, a five-star beachside palace, which has a golf course, a cricket pitch, tennis and a fish restaurant
On the other hand, if you are keen on that sort of thing, then the ultimate exemplar has to be our final hotel, The Leela in Delhi. It has no pretensions to reflect the old Raj, but rather the best of a modern, would-be superpower – a sleek lesson in what money can buy. As my other half emerged from the bathroom, where he had been engaged in his continuous war against sand, he announced: 'That was the best shower I've ever had in my life.' (He is 65.) When pressed, he just shook his head. He had no words.
The Leela was sublimely comfortable with impeccable nothing-is-too-much-trouble service. And they even have hotel staff to check you in and take you through the labyrinthine security procedures at Delhi airport – a security force to protect you from reality. But for all that, it lacked something of the Vivenda's faded charms and Shiva's frail, human intimacy.
After only nine nights we had to leave the subcontinent for the Nordic Rim on Finnair again. It was hard. Trying to do Goa, let alone India, in just over a week was crazy. Far too short. But for me, it's the start of a mid-life love affair with a sub-continent that I glimpsed but barely met.
Next year, when my husband goes on his 'annual leave' of our marriage, I'll be back. But maybe not via Helsinki.
TRAVEL FACTS
TransIndus (transindus.com) offers ten nights in India from £1,595pp.
This includes all flights, transfers, two nights B&B at The Leela Palace (theleela.com) with a tour of Delhi, three nights B&B at Vivenda Dos Palhacos (vivendagoa.com) and three nights B&B at The Taj Exotica (tajhotels.com).
The article "Desperate to escape the rain and cold? Then why not give it a Goa!" was originally published on http://www.dailymail.co.uk/travel/article-5709437/Desperate-escape-rain-cold-not-Goa.html?ITO=1490&ns_mchannel=rss&ns_campaign=1490