Greg Norman Golf Course Design is honored to have five designs listed among Golf Digest's World's 100 Greatest Golf Courses:
No. 29 Ellerston Golf Club
Hunter Valley, New South Wales, Australia / 7,318 yards, Par 72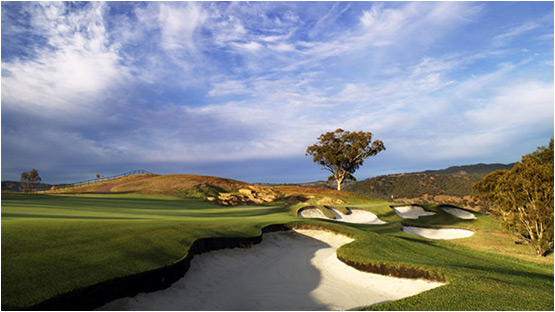 No other course on the World Top 100 is so brutally honest about its intention to be a ball buster. The late media mogul Kerry Packer commissioned Greg Norman to build him the nation's toughest course, and Norman complied. Routed on slopes and in a valley on Packer's estate, it has water in play on half the holes. A superb aerial game is needed to clear deep bunkers and reach greens perched perilously close to the Pages Creek. After Ellerston's opening, Norman said, "We had no need to consider forward tees, resort traffic or weaker hitters. We were able to create a course that a golfer of my caliber would love to play everyday."
No. 30 New South Wales Golf Club
Le Perouse, New South Wales, Australia / 6,829 yards, Par 72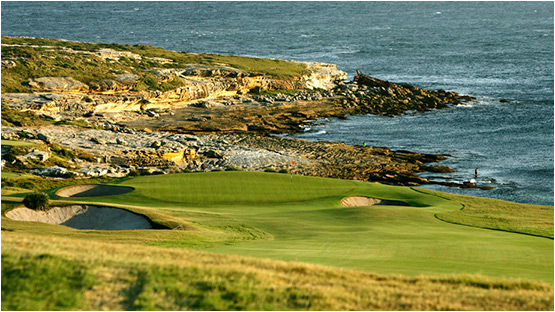 Sitting along the dramatic rugged seacoast of Botany Bay near Sydney, on the spot where Captain Cook first stepped onto Australia in 1770, La Perouse is renown for its ocean views and high winds. On his brief but productive 1926 trip, Alister MacKenzie prepared a routing for the course, but it was radically altered during a 1936 remodeling by Eric Apperly and by neglect during WWII. A succession of post-war architects have slowly re-established the integrity of the design, most recently Greg Norman.
No. 74 The Bluffs Ho Tram Strip
Ba Ria, Vung Tau, Vietnam / 6,855 yards, Par 71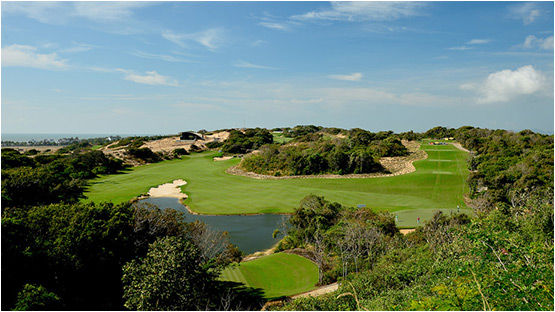 A 2014 design by Greg Norman, an Australian who now lives in Florida, so it's no surprise that Bluffs Ho Tram is very reminiscent of a Florida golf course, Jupiter Hills. Like Jupiter, it's separated from the ocean by a highway but plays through dramatic sand dunes covered in tropical vegetation, has joint fairways and even a pair of par 3s playing from a common dunes-top tee box complex to greens in opposite directions. As the name suggests, the Bluffs has some dramatic elevations, with the long par-3 15th green at the highest point, 165 feet above the South China Sea.
No. 84 Nirwana Bali Golf Club
Tabanan, Bali, Indonesia / 6,805 yards, Par 72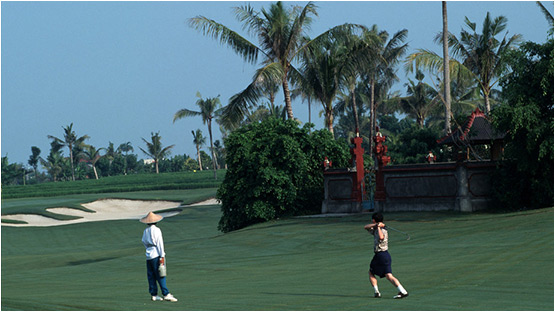 In this paradise east of Java, golf is found beside swaying palms, lily ponds and crashing surf. Designed by Greg Norman and his then-design associate Bob Harrison in 1997, Nirwana Bali winds through homes and rice paddies, both specially built to be incorporated into the layout, and touches the ocean on both nines. Most dramatic is the par-3 seventh, a shot over a ocean cove with Tanah Lot, a famed Balisian temple, to the left, on a rock outcropping just offshore.
No. 97 Jumeirah Golf Estates (Earth)
Dubai, United Arab Emirates / 7,692 yards, Par 72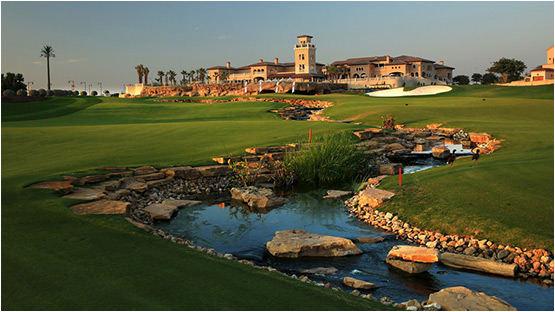 Development course with gorgeous white, graceful-though-deep bunkers that look suspiciously like those at Augusta National. A recirculating creek looks like it was appropriated from Muirfield Village. Plus there's even an island green. Site of a World Tour event since 2010, Earth was the first of what was intended to be four full-blown courses at Jumeirah. Only the Norman-designed Fire Course has been completed. The remaining two, Wind and Water, have been shelved.
Additionally, two GNGCD designs were recognized among Golf Digest's Top 10 Courses in the Middle East:
No. 2 Almouj Golf The Wave (Oman)
Muscat, Oman / 7,300 yards, Par 72
Almouj Golf was a new entry at No.4 in our 2013 ranking and this time around it ascends two places, only narrowly missing out on the top spot. Those who haven't played it could be forgiven for being sceptical, while those who have are in almost unanimous agreement: this is an absolute belter of a golf course. There are no gentle crescendos on this Greg Norman design. The opening hole features a green hidden among some impressive dunes and then bang, you step onto the second tee and you're looking straight out across the Sea of Oman. The location is spectacular, but the great thing about Almouj Golf is it would be fantastic even without the coastal setting, too. The sea enhances this rugged modern links, but it's not its defining feature. Norman has crafted some formidable dunes and over the last couple of years the native areas have settled down to add a more natural feel to this course, while the holes themselves all seem to be engaged in an open bidding auction for the title of 'signature'. When the wind is up, the par 3 14th has to rank as the scariest one-shotter in the region, but it's not the only heart-in-mouth moment you're likely to experience on a golf course that has still not reached its full potential. – Robbie Greenfield, Golf Digest Middle East
No. 4 Jumeirah Golf Estates (Earth) Dubai, United Arab Emirates / 7,692 yards, Par 72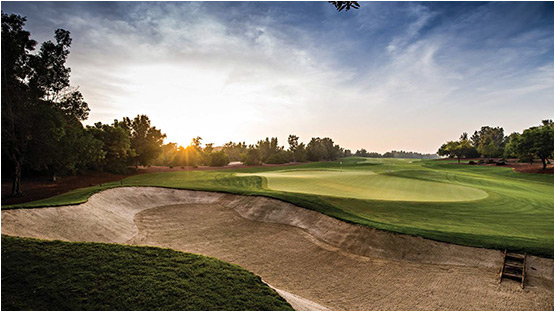 Personally, I think Earth is the best manicured course in the Middle East, certainly all-year round and the week of the DP World Tour Championship it's just perfect, which is a huge plus for me. What I like about the layout is there's a lot of vegetation – it feels like a mature golf course. It's totally different to anything else in the Middle East. Visually, Earth is stunning, and a little intimidating in places as well. Although the central fairway bunkers look imposing, a lot of them aren't really in play. I like that because it makes you think twice, you're not just standing up and trying to bomb it down an open fairway. It makes you plot your way around and think a little bit more. When I first played the course, I agreed with some of the comments regarding the blind approach shots and that slightly tricked up nature to it. But the more I've played it, I've realised how unique it is. If I'm being hyper-critical, that back tee on 18 is a bit silly. When the tee is pushed up as it is in the championship, it becomes a thrilling par 5. Earth has some really special holes, particularly the closing stretch, really from the 15th onwards. The greens from start to finish really test you. Your short game needs to be on song if you want to score well round here. – Scott Sullivan, General Manager, ProGolf International
The article "Five GNGCD Designs Recognized Among 'World's Top 100'" was originally published on http://www.gngcd.com/news_item.php?news=431