---
Paul Myers
June 24th, 2016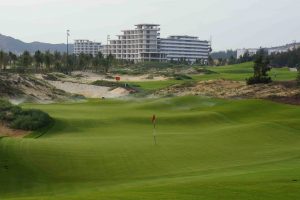 Hanoi, Vietnam, June 23 — Publicly-listed Vietnam company, FLC Group, has announced plans to build 20 new golf courses in Vietnam in the next five years.
The Hanoi-based company – a major developer of apartments, shopping centres, industrial parks and resorts – already has USD1 billion of golf resort development under way or completed at four locations on Vietnam's 3260-kilometre coastline.
Its first integrated resort, at Sam Son, 170km south-east of Hanoi, opened late last year. The second, with a Nicklaus Design course that opened in March and another designed by Schmidt-Curley under way, is near Quy Nhon on the south central coast between Nha Trang and Danang.
The links-style courses are in dramatic oceanfront settings that provide an extra dimension to golf in Asia and create new golf tourism destinations for local and foreign golfers.
A 500-room hotel is about to open at the Quy Nhon site, which will feature several hundred villas.
A third project near famous Halong Bay east of Hanoi has just commenced and a fourth – that promises to be the company's crown jewel – will comprise 10 courses, villas, townhomes, a hotel and convention centre in Quang Binh province on the north central coast.
Luu Duc Quang, the chairman of Biscom, a subsidiary established to manage FLC's golf courses, says golf is a perfect way to leverage the company's real estate holdings.
FLC is working closely with Vietnam's Ministry of Planning and Investment in developing the new projects, all of which have government approval.
Mr Quang expects the majority of players and investors at the new courses to be local Vietnamese, with Koreans and Japanese likely secondary participants.
He says other foreign golfers will be attracted by the new destinations and traditional links-style settings and playing conditions.
The article "FLC Group to build 20 golf courses in Vietnam" was originally published on http://www.asiantravelmedia.com/flc-group-build-20-golf-courses-vietnam/