VIETNAMGOLF ENJOYS AN EXCLUSIVE CHAT WITH THE LEGENDARY GREG NORMAN ABOUT AN EXCITING NEW COURSE TO OPEN IN CAM RANH.
PLEASE TELL US ABOUT YOUR NEW COURSE IN CAM RANH?
There are many things I would consider unique about our course in Cam Ranh, but the two that stand out the most are the magnitude of the site and the location. Several holes have amazing views of the ocean or other natural coastal features and there's not a tree on site, so it's pretty awe-inspiring when you stand on an elevated tee box, fairway or green and see the beauty of what's around you. It's hard to imagine that such a magnifcent golf course is just fve kilometers from the runway of an international airport, but that's exactly what we have in Cam Ranh.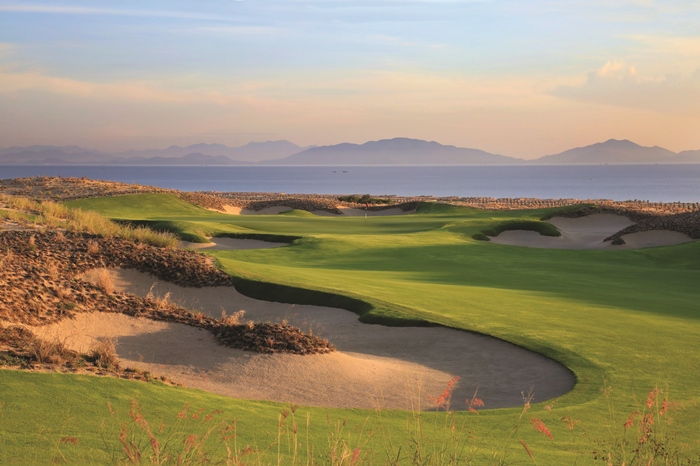 Hole 18
HOW DO YOU VIEW KHANH HOA'S GOLF TOURISM POTENTIAL?
Having been active since the early 2000s in Vietnam, I've obviously seen a lot of growth in the country. But I see a tremendous amount of potential for this corridor, especially where golf is concerned. Khanh Hoa has a great deal of quality infrastructure in place and seems to be expanding its tourism base internationally, so it wouldn't surprise me at all to see more courses developed there as the demand for golf increases.
WHEN WILL THE GOLF COURSE OPEN?
The course is scheduled to open during the frst quarter of 2018 and will be a resort course that is open to the public. I'm sure there will also be a membership programme, but we haven't gotten that far with the operating plan yet.
WHAT DO YOU THINK ABOUT MR LE VAN KIEM CHOOSING THIS LAND TO BUILD THE COURSE?
Chairman Kiem allowed us to route 27 holes of golf on the site before any other planning was done, so we were able to incorporate some spectacular features into the layout. The majority of dune formations along the coast of Cam Ranh are broad and more gradually undulating than other parts of Vietnam and we took extreme care in laying out the course to ensure that golfers can take in the entire coastal experience as they play their round. It's a very a special piece of property and I commend Chairman Kiem for having the vision to build this mega project in such an amazing setting. It will certainly raise the bar for golf resorts in Southeast Asia.
WHAT INSPIRED YOU TO BE IN THIS COURSE AND HOW MANY HAVE YOU DESIGNED GLOBALLY?
We now have 103 courses open for play throughout the world and another 22 in planning and development stages. For me personally, it was somewhat of a natural progression into golf course design during my years as a professional golfer. I always studied the design of each course we played on tour and thought about what I liked and what I would do differently. But none had an effect on me as much as the courses back home in the Sandbelt of Melbourne, Australia – Royal Melbourne and Kingston Heath Golf Clubs. Dr. Alister Mackenzie designed both courses and I actually based much of my design philosophy on the same principles when I decided to start my golf course design business back in 1987.
ABOUT GREG NORMAN
Nick name: "Great White Shark"
Nationality: Australian
Home city: Hobe Sound, Florida
Personal record:
– Won more than 90 tournaments worldwide
– Won two Open Championships
– No. 1 position in the world golf
rankings for 331 weeks
– One of the most prolifc players in the game's history.
– Inducted into the World Golf Hall of Fame with the highest percentage of votes.
l Presidents Cup captain of the International Team: in 2009 and 2011
l Chairman & CEO ofGreg Norman Company.
l Design more than 100 golf course designs across six continents
l Contributing to charity: CureSearch for Children's Cancer
Đăng bởi Hà Phan
The article "Meet "The Great White Shark"" was originally published on http://vietnamgolfmagazine.net/en/meet-great-white-shark/