FLC Nhon Ly resort complex January 2 (the fifth day of the Year of Monkey) received a 100-member caravan coming from Ho Chi Minh City.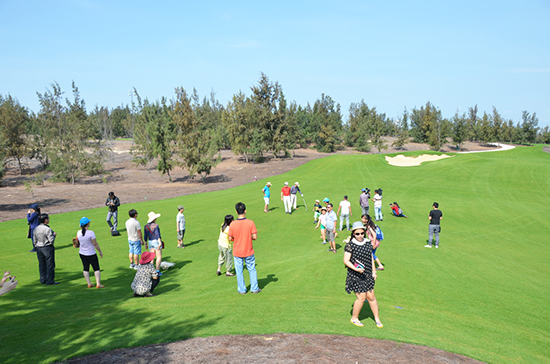 The Caravan members visit the FLC's golf course. Photo courtesy of Hoa Kha
Visiting the golf course, one of its members Lai Van Dung said that, he had seen many golf courses, but the FLC golf course was more beautiful and surrounding mountain, forest, sea and sands impressed him.
He also said that, thanks to its favourable landscape and geographical position, the golf course would have a good prospect in the future.
Some members of the caravan said that this was not only a field trip but also a tour to experience landscapes through provinces of Phu Yen, Binh Dinh, Gia Lai and Buon Ma Thuot.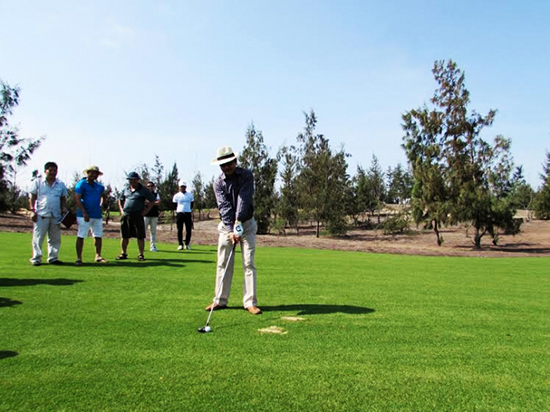 Mr. Nguyen Bang Tam, Chairman of Binh Thanh District Enterprises' Association, plays golf. Photo: Transportation Newspaper.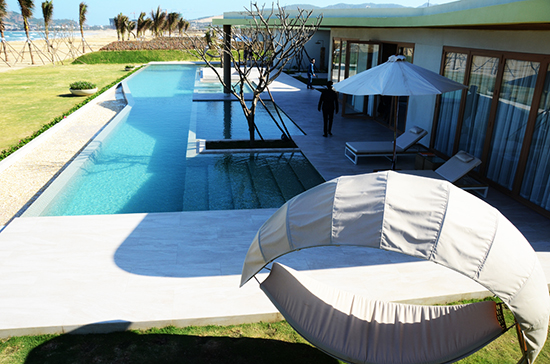 A corner of FLC's luxury villa resort. Photo: Hoa Kha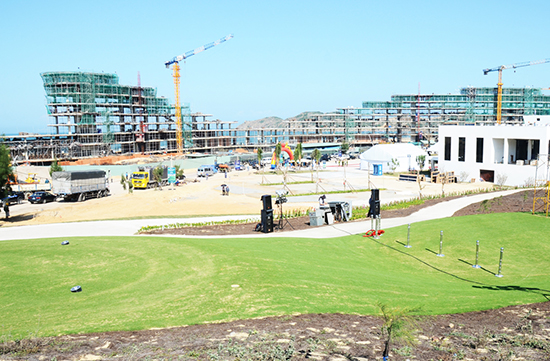 Some facilities of FLC Nhon Ly resort complex has being built. Photo: Hoa Kha
At present, although some facilities of FLC Nhon Ly resort complex has just been completed and the others are still under construction, the complex makes a good impression for the visitors.
Director of FLC golf course Kelly Chickowski explained, "At FLC golf course, each golf hole is a masterpiece. The first nine holes featured the golf course as a romantic scene with wind blowing through the row of pine trees and sand dunes. The remaining nine holes featured a majestic ocean. Each line of golf also has its own story and golfers will have new experience when playing. They will surely be impressed after playing on the golf course for the first time".
The FLC Quy Nhon golf course, resort, villas and high-end entertainment complex, which has a total investment of more than VND 3 trillion and covers an area of 300 hectares, embraces the Eo Gio Beach which is considered the most beautiful sunset view in Vietnam.
It is built in accordance with the international five-start standards. It is comprised of a 800-room hotel, 18-hole golf course, international conference center with the seating capacity of over 1,500, entertainment center and safari park.
By Hoa Kha
The article "FLC Nhon Ly complex welcomes "first-footers" in Year of Monkey" was originally published on http://www.baobinhdinh.com.vn/en/EnglishViewer.aspx?macm=22&macmp=22&mabb=745