Golf may still be an expensive sport, but in Vietnam some lucky children are about to learn for free.
Golf is a rich person's sport. Club membership fees range from $2,000 to $150,000 while day fees for non-members are also sky-high. For example, to play at King's Island golf course on weekends costs VND3.290 million ($152) to which other fees also have to be added.
"Golf was always a high-end sport," shares Evans Mahoney, director of golf at Kings' Island Golf Resort. "However, in the late 1990s, golf started to open and it is no longer the preserve of the super rich."
In a country with a GDP per capita of $1,910.5 playing golf is still a world away for most. "I used to play golf in public courses in the US," says Hanoi resident Hoang Cong, who had studied in the US for over six years. " However, I had to quit the sport when I came back to Vietnam because the membership fee was too high. This is a great sport and I really want my son to learn it, but the cost is prohibitive."
Nurturing talent
However, there is now a chance for the less well off to play because the BRG Group, one of the leading investors in golf resorts in Vietnam, has announced the BRG VietGolf U16 project with support from the Jack Nicklaus Academy of Golf.
BRG VietGolf U16 will be the first program in Vietnam to allow children aged 8 to 15 (under 16) to learn golf free of charge. "We can sponsor the tuition and green fee. Parents only have to pay for other expenses such as food," says Nguyen Thi Nga, chairwoman of BRG Group.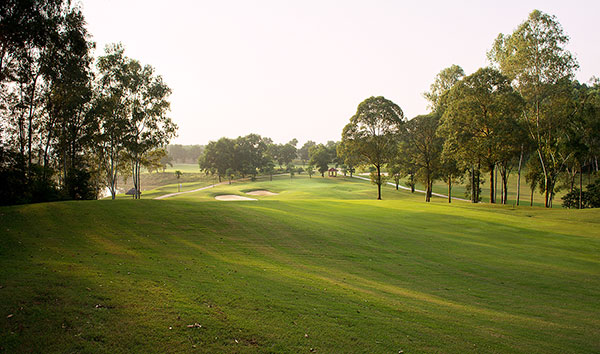 "Our goal is to offer every child from 8 to 15 in Vietnam the opportunity to try or learn golf," explains Mark Reeves, Golf Development and Property Business Division Director in BRG Group.
According to Tayler Kimura, DoSon Seaside Golf Resort's director of golf and also an expert in golf education, children can benefit much from this sport. "There are many values that golf teaches them," he shares. "There is no referee, so they will learn honesty and integrity in order to play the game."
Tayler adds that golf will teach life lessons. "Life throws different challenges at you and the same happens on the golf course. Sometimes it seems unfair when you hit a good shot but it bounces into the water because of the weather or a slope. It teaches you to handle all of those things because it will come up in life the way it comes up on the golf course."
The BRG VietGolf U16 program has already started and BRG will have two events at BRG Doson Seaside Golf Resort in July 2015 and BRG Kings' Island Golf Resort in August 2015.
By Averie Nguyen
The article "Golf for all" was originally published on http://www.vir.com.vn/golf-for-all.html