Tweet
Story published at 11:40, Tuesday, July 19th, 2016
Superintendents and course managers from around the country turned out in force to support the Asian Golf Industry Federation (AGIF) Vietnam Turfgrass Management Seminar.
The two-day event at Tan Son Nhat Golf Course attracted more than 70 attendees from 20 different Vietnamese clubs as far afield as Binh Duong, Dalat, Danang and Hanoi as well as representatives from golf venues in Cambodia and Myanmar.
Organised by the AGIF, the seminar featured presentations from five of the region's most high-profile turf grass experts and focused on communications with management and members and greens maintenance and renovation.
A field demonstration and equipment exhibition took place on day two at the venue that is conveniently situated in Tan Binh District, next to the Tan Son Nhat Airport.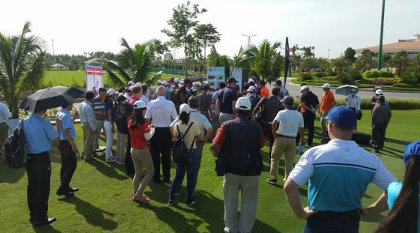 Adding kudos to the event was the fact that educational points were offered by the Golf Course Superintendents Association of America (GCSAA), the Australian Golf Course Superintendents' Association (AGCSA) and the Club Managers Association of America (CMAA).
Eric Lynge, the AGIF's Chief Executive Officer, said: "That there was such a good turnout once more illustrates the growing thirst for knowledge among those working in the industry.
"We are extremely grateful to sponsors, speakers, delegates and all those involved with the organisation of the event.
"It was the first time that the AGCSA has been involved with one of our events – and the first time we've been able to award educational points from the GCSAA, the AGCSA and the CMAA."
Peter Frewin, the AGCSA's Chief Executive Officer, said: "The AGCSA has steadfastly promoted the role of the golf course superintendent and course maintenance personnel for the betterment of the game of golf.
"We were happy, therefore, to offer Australian education points for the event in Vietnam and look forward to exploring how we can work closely with the AGIF going forward."
Keynote presentations were delivered by Kuala Lumpur Golf & Country Club Course Superintendent Mohd Nizam Othman, Ali Macfadyen, Course Superintendent from The Bluffs Ho Tram Strip, Son Vu Minh, Golf Course Superintendent at Van Tri Golf Club, Ron Carlyle, a respected Golf Maintenance Consultant based in Taiwan, and John Holmes, President of Atlas Turf International.
Gold sponsors for the event were AGIF Executive Member Jacobsen and Turfco, a Full Business Member of the Federation.
Campey Turf Care Systems, E-Z-GO, Maredo, Rain Bird, Shibaura, Toro and True Surface all took up Silver sponsorship packages. There was also backing from Atlas Turf and Flowtronex.
Emphasising the AGIF's aim to support the entire industry, the field day was open to members and non-members of the Federation.
In 2015, the AGIF organised eight Turfgrass Management Seminars and Field Days in eight different countries – China, Indonesia, Malaysia, the Philippines, Singapore, Taiwan, Thailand and Vietnam.
The Vietnam Turfgrass Management Seminar was the third event in the AGIF series of Turfgrass Management Seminars and Field Days in 2016. Further events this year will be held in Indonesia, Malaysia and Taiwan.
Asian Golf Industry Federation www.agif.asia
View more stories about Exhibitions and Conferences
Tags: AGCSA, AGIF, Asian Golf Industry Federation, Atlas Turf International, Australian Golf Course Superintendents' Association, Campey Turf Care Systems, E-Z-GO, Eric Lynge, flowtronex, Jacobsen, Maredo, Peter Frewin, rain bird, Shibaura, Toro, True Surface, turfco
The article "High Turnout for AGIF Vietnam Turfgrass Management Seminar" was originally published on http://www.golfbusinessnews.com/news/exhibitions-and-conferences/high-turnout-for-agif-vietnam-turfgrass-management-seminar/