Australian Rodger Davis, who has won 30 professional golf tournaments – including the NZ PGA Senior Championship in mid-March – is the figurehead of new Pro-Am golf holidays to exotic destinations in Asia Pacific.
The first four-round event, in which one professional golfer plays with three amateurs, was held in Danang, Vietnam, in March.
Davis, who long ago abandoned the plus-fours golf attire for which he and the late Payne Stewart were famous among professional players, joined seven club and touring pros and 24 amateurs in the inaugural event, played at Montgomerie Links and Danang Golf Club on Vietnam's booming Central Coast.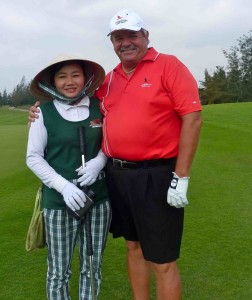 Coincidentally, Davis beat Danang Golf Club's designer, Greg Norman, to win his first professional European tournament, the State Express English Classic, in 1981.
"Greg Norman and Colin Montgomerie both did a very good job designing the courses," he said after playing two rounds at each. "They are very playable for higher handicappers and provide a challenge for lower handicappers to attack the flags.
"These days, many modern designers make their courses far too difficult. But I thought both achieved a nice balance in their designs. They offer a great golf experience."
Now based at Lakelands Golf Club on the Gold Coast, Davis was joined on the trip by Queensland club pros Mal Wilson (Nambour) and Carmen Railton (North Lakes), touring pros Elliott Booth, Paul Dalgleish, John Barrett and Denis Brosnan (who owns Brosnan Golf), and Steve Bishop of Coffs Harbour Driving Range on the NSW North Coast.
Amateurs came from the Sunshine Coast, Brisbane, Adelaide, Canberra, Evans Head, Portland, Mildura, with two Australian expats from the Philippines.
Danang, where golf has been played for only five years, is regarded as one of Asia's top golf tourism destinations. Its three world-class courses include Laguna Lang Co, designed by Sir Nick Faldo, which opened in March 2013 and was named last November as the best new course in Asia Pacific.
The three courses are all members of Golf Coast Vietnam (www.golfcoastvietnam) a collective of the three courses and the region's leading hotels and resorts.
The Pro-Am tour was organised by Down Under Endeavours. Its next trip featuring Rodger Davis is scheduled for Bintan Island, near Singapore, from May 19-24. An inter-island cruise around the Hawaiian islands is planned for September.
Visit http://www.downunderendeavours.com/ProAm for details.
Paul Myers
March 31st, 2014
The article "Rodger Davis Pioneers Pro-Ams Overseas" was originally published on http://www.asiantravelmedia.com/rodger-davis-pioneers-pro-ams-overseas/