Vinpearl Ha Long Bay Resort – a beauty in harmony with the world natural wonders
Located on Reu Island – one of the most beautiful islands of Halong bay, Vinpearl Ha Long Bay Resort is compared as an ancient castle in the heart of the world's most beautiful bay. This is the first resort with Vinpearl brand name in the North and the first 5-star resort of Ha Long. Vinpearl Ha Long Bay Resort is designed according to international standard with 384 rooms and an area of luxury conference room with a capacity of up to 500 guests. It meets the diverse needs of domestic and international meetings with a luxury entertainment and cuisine service area, a marina and an impressive spa system on the beach, etc.
In addition, 3 private beaches stretching around the island at Vinpearl Ha Long Bay Resort are the ideal locations for team building activities or tea parties. Taking a walk on the white sandy beach with friends, family or colleagues, and together welcoming the early morning sunshine or contemplating the sunset will be unforgettable moments for every traveler when staying here.
Vinpearl Nha Trang – the longest sea-crossing cable car in the world
Vinpearl Nha Trang is connected with the mainland from Hon Tre Island through a 3,320m long sea-crossing cable car system which is the longest cable car in the world. This is a group of hotels with the largest scale in Vinpearl system with 4 branches: Vinpearl Nha Trang Resort, Vinpearl Nha Trang Bay Resort & Villas, Vinpearl Luxury Nha Trang and Vinpearl Golf Land Resort & Villas.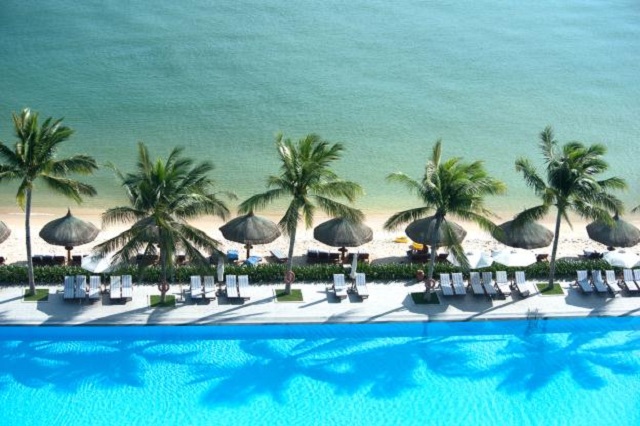 Owning private beaches, large meeting rooms with capacity of up to 1,300 people, Vinpearl Land Amusement Park – Nha Trang, along with a diverse room and villas system, Vinpearl Nha Trang is particularly suitable for large events with team building activities as well as beach parties.
Vinpear Phu Quoc – Heaven on neglected pearl Island
Situated at Long beach – one of the ten most beautiful neglected islands in the world, Vinpearl Phu Quoc is the ideal destination for the guests who love the natural beauty. Vinpearl Phu Quoc has a total area of over 300ha, including 750 hotel rooms and 5-star villas that are designed with contemporary architecture style. In addition to the high-class accommodation, Vinpearl Phu Quoc also has a conference room with an area of up to 1,500m2 and a sport ground system, spa and swimming pool of 5000m2. Following Vinpearl Nha Trang, Vinpearl Phu Quoc is the second complex of conference and event tourism in Vietnam which has a 27 hole golf course that meets international competition standard. Furthermore, Vinpearl Safari, the largest wildlife care and conservation park in Vietnam, Vinpearl Land Phu Quoc entertainment area with a complex of extreme games, aquarium, water music, etc. will bring a lot of impressions to MICE tourists.
The article "Promotion program for MICE tourism season at Vinpearl" was originally published on http://vinpearl.com/en-US/News/news-569/2016/Promotion-program-for-MICE-tourism-season-at-Vinpearl-1481