More than one-third of communes become new-style rural areas
Road construction in a rural commune
Vietnam has to date had 3,370 communes, or 37.76 percent of the total, recognised as new-style rural areas, according to the Central Coordination Office for New Styled Rural Development.
The ratio is expected to rise to at least 40 percent as of the end of this year, up 3.37 percent from 2017.
Fifty-three districts of 27 provinces and central-run city earned the recognition, up 10 localities from the previous year.
Thanks to the local efforts to improve rural infrastructure, 4,944 communes have met criteria on transportation, 7,653 satisfied criteria on irrigational system, and 5,063 communes fulfilled the criteria on schooling facilities.
As many as 818 agricultural value chains to promote local staples have been developed in the localities, with high-technology applied extensively. Notably, specialised areas have been formed for the cultivation of high-value crops such as mango, green-skin pomelo and durian in Dong Nai province, mango in Dong Thap province, dragon fruit in Binh Thuan province, Luc Ngan litchi in Bac Giang province, and Cao Phong orange in Hoa Binh.
The country has registered around 4,823 local specialties or "one commune one product" (OCOP) products and tourism services. However, only 1,086 of them have registered or announced their quality standards and 695 products have gained intellectual property protection.
The move will help promote the efficiency of the OCOP programme during 2018-2020, making contributions to developing rural economy, increasing income for the locals while preserving traditions in each region.
At the same time, the central office has warned about a yawning gap in the new-style rural building results among regions. The Red River Delta and the southeast region achieved 65.38 percent and 63.88 percent of the set target while the ratio in the northern mountain, Central Highland, Mekong Delta and coastal south central regions were 18.2 percent, 24.67 percent, 31.21 percent and 36.12 percent, respectively.
In order to earn the title of new style rural areas, a commune or district must meet 20 criteria covering a wide range of fields, from the development of infrastructure, the improvement of production capacity, environmental protection to the promotion of cultural values.
The national target programme on building new-styled rural areas was initiated by the Vietnamese Government in 2010 with the aim of developing rural regions. It initially had 19 criteria, and the set of criteria was increased to 20 in 2015.
National conference on sustainable growth slated for July 5
The national conference on sustainable development 2018 will take place in Hanoi on July 5, according to the Vietnam Chamber of Commerce and Industry (VCCI), a member of the organising board.
Focusing on enhancing competitiveness and realising sustainable development goals in Industry 4.0, the event expects to draw 600 delegates representing ministries, sectors, international organisations, embassies and businesses.
Participants will discuss measures to promote public-private partnership in order to speed up the implementation of the country's green and sustainable development strategy.
They will give policy recommendations for the building of action plans the Government as well as the private sector to enhance productivity and competitiveness with a goal of sustainable development amidst the forth industrial revolution.
They will update new information of outstanding plans, programmes and initiatives that the Vietnamese Government, ministries, sectors, localities and international organisations have conducted to improve business environment and raising national competitiveness.
At the same time, they will share information, experience and knowledge of sustainable development as well as solutions to boost cooperation among the Government, enterprises and social organisations, heading to the success of sustainable development in Vietnam.
In 2015, Vietnam and 192 other United Nations member countries approved 17 Sustainable Development Goals which are the focus of the Agenda 2030.
Vietnam Fatherland Front aids flood victims in Ha Giang province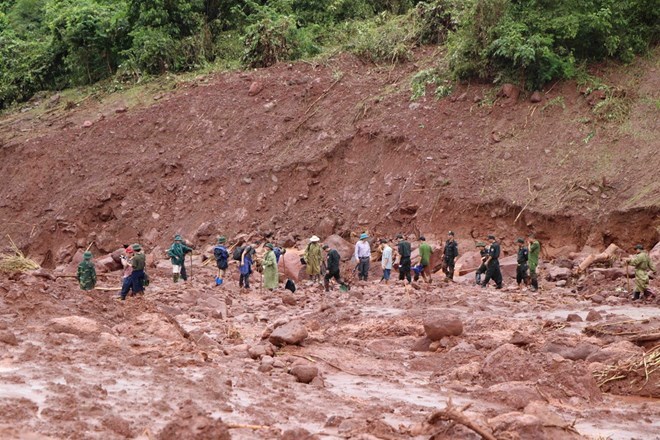 Landslides hit the northern mountainous region due to torrential rains and floods
A delegation from the Vietnam Fatherland Front (VFF) Central Committee led by its Vice President and General Secretary Hau A Lenh on July 1 visited families of victims and households affected by recent devastating floods in the northern mountainous province of Ha Giang.
Lenh lauded the Party Committees, administrations and VFF Committees at all levels of Ha Giang province for their active response as well as efforts in dealing with the disaster consequences.
Lenh, who is also head of the Central Relief Committee, handed over 1 billion VND (44,000 USD) from the committee to Ha Giang to support the affected residents.
Secretary of the provincial Party Committee Trieu Tai Vinh said that torrential rains and floods lasting from June 22-27 caused severe losses of human lives and property in the province.
Nearly 1,600 houses were submerged by floodwater, while hundreds of others were swept away and ruined.
Meanwhile, 10 schools in Quan Ba and Vi Xuyen districts and Ha Giang city were damaged seriously, along with hundreds social works and many roads. Total losses are estimated at 122 billion VND (5.36 million USD).
On the occasion, the VFF delegation presented 40 million VND to each of six households having their houses destroyed, and 5 million VND each to families of dead victims in Quan Ba district.
The same day, a charity group in neighbouring Lai Chau province, another hard-hit locality by floods, presented gifts totaling over 120 million VND (5,200 USD) to affected local people in Sin Ho district.
Earlier, another charity team also handed over 100 million VND (4,400 USD) to leaders of Tan Uyen district of Lai Chau province to support the victims.
Flash floods and landslides left 23 dead and 10 missing in the northern mountainous provinces, mainly in Lai Chau and Ha Giang.
Of the victims, 16 deaths and 9 missing victims were in Lai Chau province, five deaths in Ha Giang, one death each in Quang Ninh and Lao Cai, and one missing person in Dien Bien, reported the Standing Office of the Central Steering Committee for Natural Disaster Prevention and Control.
Floods also pulled down or swept away 161 houses, damaged 958 homes and submerged 1,800 others.
In addition, more than 1,500 hectares of rice and crops were inundated or destroyed, while nearly 600 hectares of aquaculture were damaged and 738 cattle heads and over 13,800 poultry were killed.
Total damage was estimated at nearly 500 billion VND (around 21.8 million USD).
Golf tournament of OVs in Czech attracts large number of players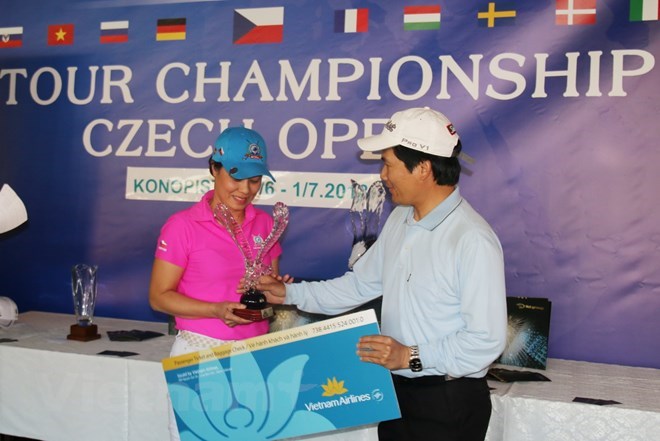 Golfer Vu Thi Hong Mai was the champion of category for women
As many as 320 oversea Vietnamese (OV) from 11 European countries have competed in the Czech Open Golf Tournament under the European Vietnamese Golf Association (EVGA) Tour Championship 2018.
The EVGA Tour Championship is an annual golf tournament system of overseas Vietnamese in Europe, including many tournaments hosted by countries. This year there will be eight tournaments with the event in the Czech Republic being the fifth one.
The two-day tournament in the Czech Republic, which closed on July 1, attracted the largest ever number of participants so far, who were from the UK, Austria, Hungary, Bulgaria, Czech, Poland, Russia, Sweden, Germany, Slovakia, France, and Vietnam.
Nguyen Khac Thanh and Vu Thi Hong Mai were respectively the champions of categories for men and women in the tournament.
The golfers played at the golf course Konopiste Golf Resort which is situated 40km from Prague.
It offered a venue for OVs in Europe to strengthen exchange and friendship, thus promoting solidarity among Vietnamese communities in European countries.
Vietnamese students in RoK organise football tournament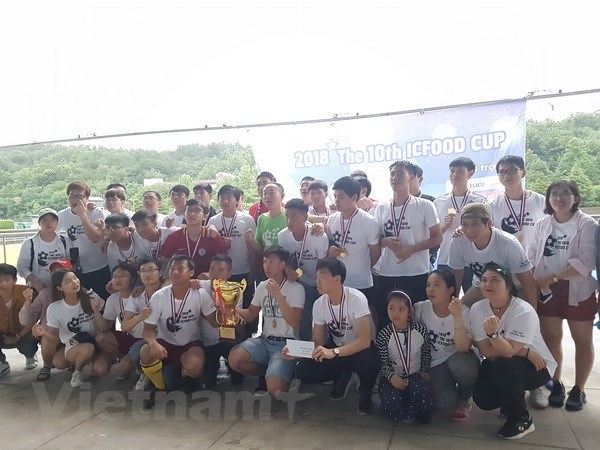 Vietnamese students join in the 10th ICFood Football Cup at Chungnam National University.
Nearly 800 Vietnamese students in the Republic of Korea (RoK) competed in and cheered the 10th ICFood Football Cup held at Chungnam National University in central Daejeon city on July 1.
This year's event attracted the participation of 16 teams from universities across the RoK.
Park Kyun-ik, President of the RoK's ICFood Company – the sponsor of the football tournament, said that the event aimed to connect Vietnamese nationals in the host nation and enhance ties between Vietnamese and Korean people.
He expressed his hope that Vietnamese students will have better understanding of the RoK through this tournament.
Meanwhile, Vietnamese Ambassador to the RoK Nguyen Vu Tu spoke highly of ICFood Company's support for the Vietnamese students in the past decade. He also took the occasion to laud the initiative to organise voluntary activities to assist Vietnamese expats who have difficulties and impoverished students in Van Ho district, Son La province.
This was the most awaiting football tournament for Vietnamese students in the East Asian country, President of the Vietnamese Students' Association in the RoKa Vu Duc Luong said, adding that it created opportunities for Vietnamese nationals to meet each other and enhance the Vietnam-RoK friendship.
Vietnam has the second-largest number of students and post-graduates among foreign students in the East Asian country, with 20,000 people.
French firm proposes cable cars to tackle Hanoi's traffic congestion
Hanoi is considering a new proposal to ease the city's traffic congestion with a new cable car line that would run across the Red River.
The line as proposed by the POMA Group, a French ropeway transportation firm, would serve as a new mode of public transport connecting Long Bien Bus Station in the central Hoan Kiem District with Gia Lam Bus Station in the neighboring district of Long Bien.
With a capacity of 25-30 passengers per car, the line is expected to be capable of carrying 7,000 passengers per hour, according to the investor.
The cable car line would be suspended 50-100 meters (164-328 feet) above ground by supporting towers and would run over 5 kilometers (3 miles), including 1.2 kilometers over the Red River, one of the biggest in Vietnam.
At a meeting with Hanoi authorities, the investor said that the line would be unaffected by ground traffic and can transport people across the river in just a few minutes, Tien Phong newspaper reported.
If approved, the line would be built in 12-24 months. The investor however has yet to give a cost estimate for the project.
Hanoi has tasked its transport department with researching the project.
Some experts however have voiced disagreement with the proposal as a cable car line would be too costly for a public transport mode. It might also affect the Red River's landscape, they said.
In January 2017, a company in Ho Chi Minh City also proposed building a one-kilometer cable car system at a cost of US$24 million to Tan Son Nhat as an answer to paralyzing traffic jams often seen around the international airport. But officials dismissed the idea as unrealistic and the company later said that it gave up the plan.
Vietnam's largest cities Hanoi and Ho Chi Minh often suffer severe traffic jams, which are mainly blamed on the rise of individual vehicles and undeveloped public transport.
Hanoi, the city of more than seven million people, has more than five million motorbikes and nearly 500,000 cars. The numbers in the 13-million-strong Ho Chi Minh City are around eight million motorbikes and more than 600,000 cars. Both cities are carrying out grand metro line projects but most have hit delays.
Summer Vietnamese course opens in Prague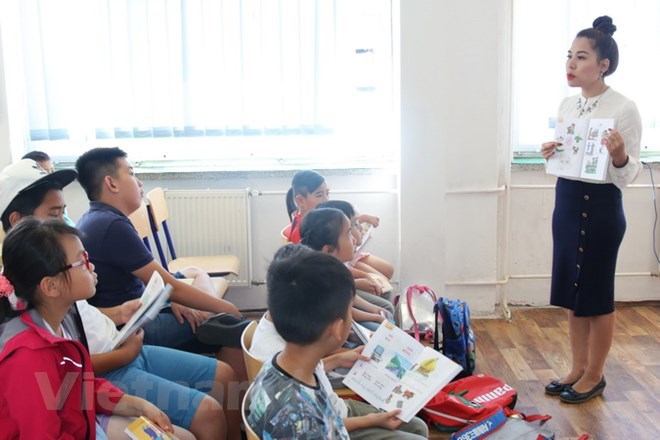 A class at the course
A summer course in Vietnamese for Vietnamese-origin children in Prague and neighbouring localities in the Czech Republic opened in the city's Sapa trade centre on June 30.
Along with teaching the children to read and write Vietnamese, the annual course also aims to get the children understand the culture and history of their motherland.
Held by the Vietnamese Centre of Prague under the Vietnamese Association in Prague, the course drew 50 trainees.
Addressing the event, Vietnamese chargé d'affairs in the Czech Republic hailed the Vietnamese Centre of Prague's efforts in popularising Vietnamese language and culture in the country.
Nguyen Van Son, Director of the Vietnamese Centre of Prague appreciated the support of the Vietnamese Embassy in the Czech Republic, donors, teachers and students' parents in maintaining and expanding such summer courses.
He affirmed that the centre will continue renovating the teaching methods to enhance quality of both teaching and learning.
Meanwhile, Vice President and General Secretary of the Vietnamese Association in the Czech Republic Vu Nam called for the engagement of the whole Vietnamese community in inspiring children to learn their motherland's language.
The Vietnamese Centre of Prague, formerly known as Sapa Vietnamese Centre, was formed 16 years ago. Along with summer Vietnamese courses, the centre has held three regular Vietnamese courses in weekend, drawing thousands of Vietnamese children.
Hoa Hao followers celebrate the sect's 79th founding anniversary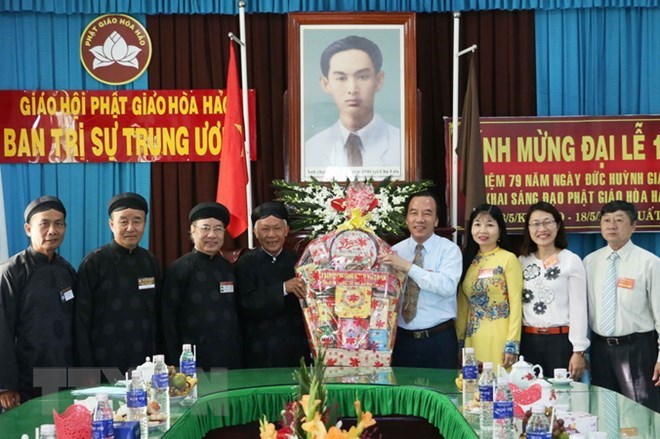 Vice President of the VFF Central Committee Ngo Sach Thuc (fourth from right) presents gifts to Hoa Hao Buddhism Sangha's Executive Committee
Nearly 2 million dignitaries and followers of Hoa Hao Buddhism from 17 provinces and cities attended a ceremony at An Hoa temple, Phu My town, Phu Tan district of southern An Giang province on July 1 to celebrate the sect's 79th founding anniversary (the 18th day of the fifth lunar month).
Addressing the event, Nguyen Tan Dat, head of the Hoa Hao Buddhism Sangha's Executive Committee, said that over the past years, Hoa Hao dignitaries and followers have always followed the teachings of Hoa Hao Buddhism founder, Prophet Huynh Phu So.
They have actively participated in patriotic emulation movements launched by the Party, State, Vietnam Fatherland Front (VFF), thus helping improve the living conditions of Hoa Hao followers in particular and the entire people in general.
At present, there are 399 local executive committees of Hoa Hao Buddhism in 17 cities and provinces.
Last year, Hoa Hao dignitaries and followers contributed over 402 billion VND (17.6 million USD) to social welfare activities.
On June 30, Vice President of the VFF Central Committee Ngo Sach Thuc visited and granted gifts to policy beneficiaries who are Hoa Hao followers in Phu My town.
He spoke highly of efforts by the Hoa Hao Buddhism Sangha Executive Committee, its local chapters and followers to respond to movements launched by the VFF, especially in social welfare and new-style rural building works.
HCM City marks 95th anniversary of President Ho's first arrival in Russia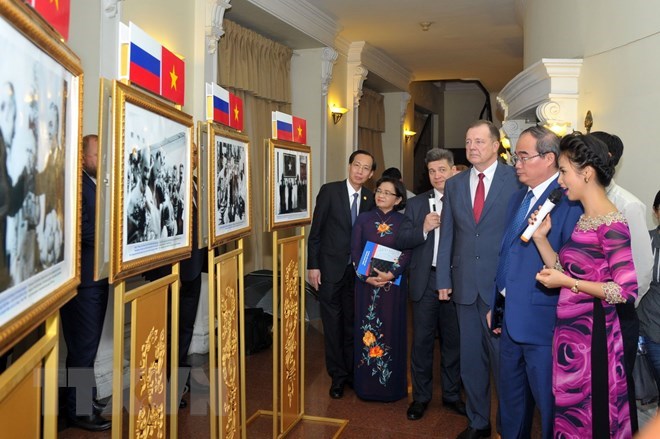 Delegates visit the exhibition "Uncle Ho with beloved Russia" on the occasion of the 95th anniversary of President Ho's first arrival in Russia.
A get-together was held in Ho Chi Minh City on June 29 to mark the 95th year since President Ho Chi Minh (then Nguyen Ai Quoc) set foot in Russia for the first time (June 30-1923-2018).
Addressing the function, Than Thi Thu, head of the municipal Party Committee's Commission for Information and Education, Nguyen Ai Quoc's landing in Petrograd city (now Saint Petersburg) on June 30, 1923 was a choice of history and an unfadable millstone.
As a place where patriotic youth Nguyen Tat Thanh made a stop before boarding a ship to find the way to save the nation, HCM City has made tireless efforts to develop itself into a civilised and modern city with good living conditions, she said.
The city has continuously enhanced cooperation and friendship with countries around the world, including Russia, she said, adding that the people of Vietnam and HCM City in particular are always grateful to the Russian people for their great and wholehearted assistance during the past struggle for national liberation as well as the current national construction and defence.
Maria Mizonova, Acting Consul General of Russia to HCM City, President Ho Chi Minh laid the first bricks for and made every effort to consolidate and develop the friendship and cooperation between Russia and Vietnam.
Now, that relationship has become a comprehensive strategic partnership which is thriving in all fields from politics, economy and trade to culture and people-to-people diplomacy, he noted.
Katanandov Sergey Leonidovich, special envoy of the governor of Saint Petersburg on issues regarding national building and development and cooperation with Russian agencies, said his city is proud to be the place President Ho Chi Minh selected to set foot when arriving in Russia.
Saint Petersburg is also the only locality outside Vietnam having an institute on Ho Chi Minh thoughts named Ho Chi Minh Institute, he stressed.
Saint Petersburg and HCM City have been implementing an array of cooperative activities in various areas, contributing to tightening and developing the friendship and comprehensive strategic partnership between the two nations, he added.
On the occasion, HCM City opened an exhibition entitled "Uncle Ho with beloved Russia", showcasing hundreds of paintings and photos on President Ho Chi Minh and people of the Soviet Union (now Russia) as well as the friendship between HCM City and Russia.
Deputy Defence Minister receives US Assistant Secretary of Defence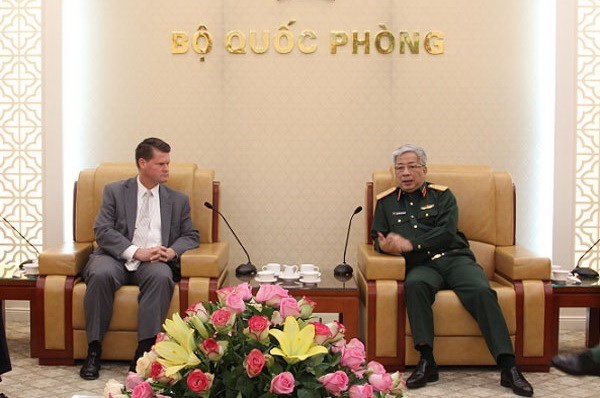 Deputy Defence Minister Nguyen Chi Vinh (R) and US Assistant Secretary of Defence for Asian and Pacific Security Affairs Randall Schriver
Deputy Defence Minister Senior Lieutenant General Nguyen Chi Vinh hosted a reception in Hanoi on June 30 for US Assistant Secretary of Defence for Asian and Pacific Security Affairs Randall Schriver.
Speaking highly of Vietnam – US bilateral defence ties over the past years, Vinh asked the US to continue boosting cooperation in areas with sound joint work, focusing on post-war recovery, including addressing Agent Orange/dioxin contamination, bombs and mines disarmament, humanitarian assistance, search and rescue, and experience sharing in the United Nations peacekeeping mission.
Schriver, who is on a working visit to Vietnam, promised to convey Deputy Minister Vinh's suggestions to the US Department of Defence at the earliest.
He expressed his belief that with joint efforts, bilateral defence ties will become more practical and effective.-
Young people join sea and island protection movements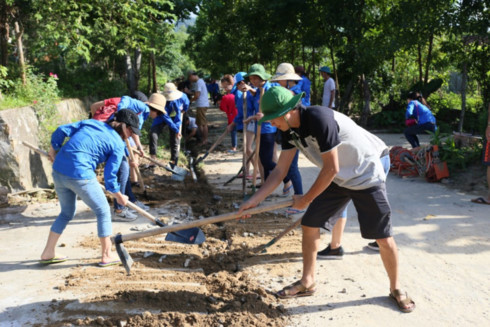 Whenever summer comes, young people in the Mekong Delta join other youth nationwide in volunteer activities in remote, border, and coastal areas
This summer, some Mekong Delta youth take part in activities in Vietnam's sea and islands.
140 young people from Can Tho city, An Giang and Kien Giang province have joined a mission called "youth from the Hau river work for Vietnam's sea and islands" sponsored by the High Navy Command Region 5 and the Tho Chu island commune in Phu Quoc district, Kien Giang province.
They helped upgrade schools and presented gifts to poor fishermen, policy beneficieries, and disadvantaged students. The volunteers organized folk games and presented books to local children and carried out activities to protect the environment.
"The fishermen are hospitable and warmly welcomed us. I'm happy to see the affection of the navy soldiers for the mainlanders," says Thieu Khanh Linh of Can Tho University.
The navy soldiers joined the young people in volunteer activities. This was an opportunity for young people to learn about patriotism and the revolutionary tradition.
"I hope young people will take part in more activities towards Vietnam's sea and islands. It encourages navy soldiers like us to defend Vietnam's sovereignty," says Sergeant Thach Phep of Regiment 152 stationed on Tho Chu island.
The young volunteers will move to Ca Mau province next month, collect rubbish on the beach and hold a cultural and sports exchange with the soldiers.
"The life of people along the Ca Mau coast is difficult. We organize activities for local children and the elderly," Ms. Ho Quy Nhi of the Department of Youth and Children of the Ca Mau Youth Union shares.
Dao Chi Nghia, Secretary of the Can Tho municipal Youth Union, said 10 young people will live and work with local residents and soldiers on the islands of Phu Quoc and Tho Chu.
"The group will help transfer new technology and skills for growing subsidiary crops. This is a practical program that needs more resources," he notes.
Robot Sophia to talk about Industry 4.0 in Vietnam
Sophia, the social humanoid robot with artificial intelligence (AI) developed by Hanson Robotics of Hong Kong, will be a guest speaker at an international forum in Hanoi next month.
The famous android will discuss and debate directly with the scholars on the matter and give some short speeches on the new issues of Industry 4.0, as well as challenges on development.
The robot will attend the international exhibition of Industry 4.0 as well as forum on vision and strategy breakthrough in industrial revolution 4.0 forum on July 12 and 13.
This year's forum marks the first collaboration between Central Economy Commission and the government. It will comprise five conferences that focus on specific topics like smart cities, smart manufacturing, high tech agriculture, innovative finance and banking. Enterprises like FPT, Schneider Electrics, Bosch and Samsung will take part in the conferences.
The event will be chaired by Prime Minister Nguyen Xuan Phuc and Director of the Party Central Committee's Economic Commission Central Nguyen Van Binh. As many as 1,800 delegates, including many technology and AI experts, will attend the event.
A policy discussion with experts from international organizations like the World Economic Forum and the World Bank, along with AI specialists and ministers, will also be part of the event.
Sophia was first activated in 2015. She became the first robot to receive citizenship of a country, Saudi Arabia, in October 2017.
1 killed, 4 injured in Hau Giang scaffolding collapse
A worker has died in a tragic accident at Song Hau (Hau River) Thermal Power Plant in Mai Dam town, Chau Thanh district in the Mekong Delta province of Hau Giang, which seriously injured four others.
The workers were using scaffolding which suddenly collapsed at 7.50am on June 29. Five of the workers suffered injuries and were immediately brought to hospital. One of the workers, Nguyen Hoang Thien, 34, was in critical condition and died as a result of his injuries.
1 killed, 4 injured in hau giang scaffolding collapse hinh 1 Upon being notified of the incident, Hau Giang provincial functional agencies and local authorities arrived to inspect the scene where they shared their sympathies and consolations with the victims and their relatives.
Tran Thanh Phong, vice chairman of Mai Dam town People's Committee, says local authorities visited the family of the dead victim and will provide support in their time of loss. For injuries, they will also receive compensation in accordance with the occupational accident policy.
Ho Chi Minh City residents rush to receive swine flu shots
Ho Chi Minh City residents have been heading to local medical centers to receive vaccination of A/H1N1 influenza after three people have recently died of the respiratory disease in the metropolis.
At least 40 patients at the Tu Du Hospital, the city's leading public institution in obstetrics, and Cho Ray, the metropolis' largest general hospital, have tested positive for the swine flu.
Three people have been killed so far, on June 26, June 28 and June 30.
Some patients have been down with swine flu for a full week but their conditions have not improved due to pre-existing conditions such as kidney failure, diabetes and lupus, doctors said.
Given the situation, many people in the southern hub have been rushing to local vaccinations centers to receive flu shots for their own safety.
According to Dr. Nguyen Thu Cuc, who works at a center of the Vietnam Vaccination Center JSC (VNVC) in Phu Nhuan District, the number of patients requesting for A/H1N1 vaccine at the venue has increased by five to ten times compared with normal days.
N.T.L., 65, said he took his wife and their three grandchildren to the center for the vaccination, as they belong to the age groups that have higher risk of infection.
This is the first time the family receive the vaccination, L. added.
L.T.M.H., a 41-year-old doctor in Go Vap District, said she also had her children injected with the vaccine.
Statistics from the Preventive Medicine Center of Ho Chi Minh City showed that the number of people asking for flu shots has recently surged in the metropolis.
The trend could be triggered by the previous fatalities caused by the disease.
According to Dr. Nguyen Thu Cuc, the current flu shot is able to prevent three types of influenza, namely A/H1N1, A/H2N3, and type B.
The A/H1N1 influenza is high dangerous for elderly people, children, pregnant women, obese people and patients of such terminal illnesses as kidney failure, diabetes and asthma, Cuc elaborated.
The vaccination will start producing antibodies after a week, but it will work best after two to four weeks, the expert added.
For children under nine years old who receive their first-ever flu vaccine, two shots with a one-month interval are required in order to have the result.
Children over nine years old only need one shot.
The vaccination has to be taken on a yearly basis, Cuc stressed.
Swine flu, known to be caused by the H1N1strain of the influenza A virus, is a respiratory disease with symptoms including chills, fever, sore throat, muscle pains, severe headache, coughing, weakness, and general discomfort.
The A/H1N1 virus can be transmitted by droplets emanating from unprotected coughs and sneezes, hand contamination, and interpersonal encounters in crowded closed spaces, according to the World Health Organization.
Vietnam receives remains of 33 volunteer soldiers and experts from Cambodia
The Royal Cambodian Army, the local government of Cambodia's Kandal province and the Military Zone 9 of the Vietnam People's Army held a solemn ceremony on June 28 for the repatriation of 33 sets of remains of Vietnamese volunteer soldiers and experts who died on battlefields in Cambodia.
Addressing the ceremony, Deputy Governor of Kandal province Ney Charay expressed his deep gratitude to Vietnamese volunteer soldiers and experts who sacrificed their lives to help Cambodia escape from the genocidal Pol Pot regime and achieve their current level of development. The government, people and armed forces of Kandal and Cambodia will continue to support the search for, collection and repatriation of the remains of fallen Vietnamese soldiers, he added.
Major-general Nguyen Van Nghia from the Military Zone 9 highly appreciated Cambodia's assistance in discovering and collecting the remains of Vietnamese soldiers and considered the good deeds as a factor which consolidates and intensifies the traditional friendship ties between the two countries.
Since 2002, the Military Zone 9 have coordinated with Kandal province in gathering 1,141 remains of Vietnamese fallen soldiers, bringing the total number of remains found in Cambodia to 7,460.
Vietnamese visual artist wins US$44,000 Signature Art Prize
For the first time, a female Vietnamese artist has won the grand prize at the Signature Art Prize, a triennial award meant to recognize outstanding examples of contemporary art from both emerging and established artists in the Asia-Pacific region.
Vietnamese visual artist Phan Thao Nguyen was announced winner of the 2018 Signature Art Prize with the grand prize of SGD$60,000 (US$44,022) at the award ceremony taking place at the National Museum of Singapore on Friday.
The 31-year-old's installation of videos and oil paintings titled "Tropical Siesta" speaks to the dark eras of Vietnamese history where the country has economically and ideologically struggled, through the eyes of countryside children.
"Tropical Siesta" was also displayed in Nguyen's previous exhibition in Hanoi in December 2017.
The two juror's choice awards, with the worth of SGD15,000 (US$11,000) each, were awarded to Shubigi Rao from Singapore and Thailand's Hua Lamphong.
Indonesian artist Gede Mahendra Yasa took home the SGD10,000 (US$7,337) people's choice award by receiving the most votes from visitors.
All 15 works of art shortlisted for the prize are on display at the National Museum of Singapore until September 2.
Like the previous editions, the 2018 Signature Art Prize was organized by the Singapore Art Museum and sponsored by the Asia Pacific Breweries Foundation to put the spotlight on the most compelling, cogent and complex works of art over the previous three years.
This year, the field was not only limited to the Asia-Pacific rim but also enlarged to include Central Asia.
The 2018 also observed the fourth times that the Signature Art Prize has been held since its inauguration in 2008.
But it is the first time for a Vietnamese artist to outdo her senior artists, who also set their names among the finalists, to seize the grand prize.
Nguyen said that the grand prize meant very much to her as Singapore was where she grew and developed as an artist when she spent a year studying and completing a residency artist program there.
The article "Social News 2/7" was originally published on http://english.vietnamnet.vn/fms/society/203448/social-news-2-7.html