Dai Phuoc Lotus, dubbed the "Sentosa of Ho Chi Minh City" by the real estate community, boasts easy travel, luxurious housing and facilities, as well as a huge potential for profit.
Recommend stories
Sentosa in Vietnam
Dai Phuoc Lotus is a landmark resort-style urban development covering 200 hectares on a 464 hectare island in the Saigon River. The water-drop shaped island, famously known as "the Eastern Pearl of Saigon", is an integral component of Dai Phuoc Ecological Tourism Urban Township that includes villas, office buildings, shopping centres, an extended marina, recreational facilities, a hotel, a commercial centre, and various public facilities all in the midst of parks and lakes, as well as the operational Jeongsan Country Club golf course.
Offering a luxurious and modern lifestyle surrounded by lush greenery, Dai Phuoc Lotus combines the best in ecological planning, creative design, and modern living comfort.
Ideally positioned just 16 kilometres from Ho Chi Minh City's central business district (CBD), next to districts 2 and 9, Dai Phuoc Lotus is easily accessible by car or speed boat. Currently, the development can be reached by a leisurely cruise of just 30 minutes by boat, or one hour by car from District 1, via the Long Thanh-Dau Giay Highway. Dai Phuoc Lotus is currently the closest eco-resort to Ho Chi Minh City.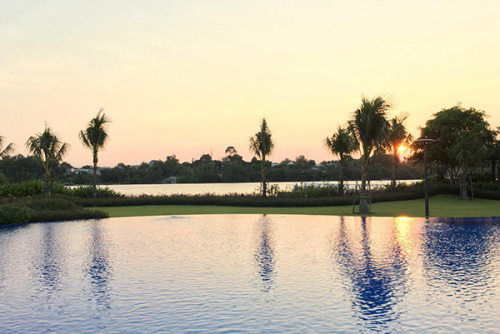 New ring road brings connectivity and potential for profit
In February 2016, the government announced that construction would commence on the section of Ring Road 3 linking Ho Chi Minh City with Nhon Trach New City via District 9 Bridge (Nhon Trach Bridge). When the section is finished, the travel time to District 1 by car will be down to about 20-25 minutes.
With the completion of this road, the profit potential of villas inside Dai Phuoc Lotus is expected to increase exponentially, with some estimating several times the current price of VND4 billion ($180,000) for each villa.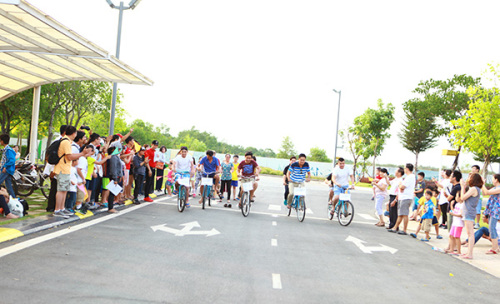 The resort villas
Covering an area of 22.4 hectares, Dai Phuoc Lotus (Villas) offers 332 luxury detached and semi-detached villas of between two and five bedrooms, with areas up to 378 square metres, and constructed on land areas between 300 and 612 square metres.
The villas meet the demands of three-generation households, offering facilities for grandparents, parents, and children alike. Operating facilities include a 375 square metre pool, a picnic and BBQ area, a café and a minimart, two tennis courts, a children's pool, and the 18-hole golf course at Taekwang Jeongsan Country Club, which is only 800 metres away from the villas.
The villas are complete and 240 of them have already been purchased by eager residents, Vietnamese and foreigners alike. Foreign investors in particular have been drawn to the project due to its international standards and its long-term investment potential. All villas have ownership certificates, which have been handed over to the owners a rare advantage amongst villa projects.
Current pricing and attractive promotions
From March to June 2016, the developer of Dai Phuoc Lotus is offering a special promotion for a select handful of semi-detached villas. Customers who pay 50% of the contract value, equivalent to VND2.2 billion ($100,000) per villa, within 12 months, will be entitled to an early handover of the villa with the façade finished, and receive a furniture package valued at VND230 million-VND315 million ($10,300-$14,000) and a guaranteed rental return of 7 per cent per year. This means that after taking over their villa, a buyer will not have to invest so much to finish it. Moreover, every year, the owner will receive at least VND300 million ($13,450) as rental profit. The villas also offer tremendous potential for short-term investment via renting to golfers at the country club from $150 a day. The owner will also have 10 free nights at the villa and between 18 and 36 months of zero management fees, from the day the villa is transferred to the owner.
For more information, please call: 090 140 8998 – 0965 69 99 69
The article "World-class vacation and investment opportunities at "Sentosa of Ho Chi Minh City"" was originally published on http://www.talkvietnam.com/2016/05/world-class-vacation-and-investment-opportunities-at-sentosa-of-ho-chi-minh-city/