There is no doubt that Asia continues to set the trend in golf course development globally by volume, courses are emerging faster than any other region throughout international markets…but how is the golf development industry responding to this influx, and what is the impact on the principles of golf course architecture itself? MacKellar International Golf Design of the U.S make an analysis on this for VGM.
Cameron MacKellar – the Owner of MacKellar International Golf Design
During our recent travels to Vietnam, Thailand ahnd China, we were able to see first-hand how golf course design continues to evolve in the region, emerging from a laborious commitment to signature design and the aftermath of such development. Brands synonymous with repetitive and "institutionalized" strategies litter the region, with punchlines of "Championship Design" fading into oblivion with facilities that are fast losing touch with the market and communities they were supposed to serve.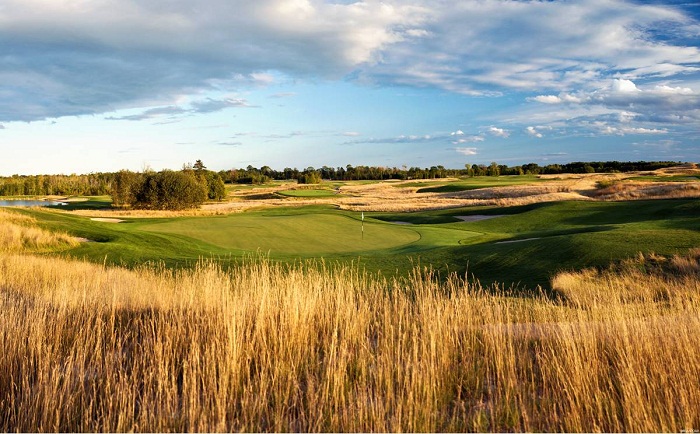 Sweetgrass Golf Club, designed by MacKellar International Golf Design
All too often we receive communication from clients that their vision for the golf course was diluted (or disregarded) during the design process, replaced by preconceived ideals that were translated into monotonous course designs that could be situated in Asia, Europe or indeed any other location globally. The result is courses that lack unique character, have lost their identity and solutions that are simply not sustainable as a stand-alone entity within the greater development. Faced with increasing maintenance costs, these highly-manicured layouts begin to encounter financial difficulties as participation rates decline when adjacent developments open that pronounce similar qualities and standards.
Our recent experience has identified two specific types of clients:
1. The educated developer that is passionate about the game itself, spending time to research options diligently, with a focus on design strategies that explore the natural landscape for optimal result.
2. The financially-focused developer who seeks out high-profile "signature" designers to grace their marketing campaign (often in response to residential sales targets) with minimal regard to the natural landscape and inherent opportunities the unique location offers.
It is undeniable that golf courses offer significant advantages to investment objectives and residential sales targets, especially when they are complimented by considerate and complimentary master-planned communities. The key word here is considerate. The primary residential benefit often migrates into associated amenities that support the community lifestyle, inclusive of retail and commercial services. Intrinsically, the success of the golf facility feeds off secondary amenities and services that reflect the surrounding community expectation. With successful integration, buyers respond positively with the purchase of residential dwellings, arriving with lifestyle expectations the facility proposes.
Informed developers are beginning to embrace the fact that successful golf course design in the modern era is much more complex than it was during the 1990's and early-2000's. In a global market, sustainability, environmental and social experiences now infiltrate the boardrooms of decision-makers at the highest corporate level. We often see this as a direct response to addressing the aspirations of an increasingly-educated clientele that respond favorably to the considerate application of the objectives outlined above.
Respectful golf design strategies are a critical element of success, and we continue to attract the interest of large-scale developers who have travelled the unenviable road of "signature" design services, and now seek out a more intimate design strategy to embrace their distinctive property condition. The Asian golf market in particular is more accepting of sustainable golf design techniques, and a more considered approach to holistic planning strategies that serve multiple purposes. Additional qualities that educate visitors (not just golfers) on regional conditions, and offer an engaging experience are fast formulating agendas for successful and long-term community interaction. Quite simply, the golf course needs to serve multiple purposes to varying demographics in order to maintain long-term interest and attraction.
MacKellar International Golf Design was founded upon the minimalist philosophy associated with the Golden Age of Golf Course Architecture. Our commitment to upholding traditional golf design strategies influences the manner in which we visualize a successful project, regardless of location or complexity of the site. Our team spends a considerable amount of time researching the historical values of the property, the surrounding region and the broader community to which it will ultimately serve. We determine optimal solutions that respond considerately to the expectations of our clients, the market and the cultural fabric by integrating design elements that engage with naturally occurring features, ensuring repeat business by extenuating a higher level of curiosity among our golf participants.
We see the essence of true golf course architecture as an adventure into educating golfers on the qualities of the natural terrain. Golfers are engaged in the landscape through the strategic and through-provoking principles of the layout, and we offer aesthetic conditions that are natural to the existing location, infusing characteristics that are unique to the locale. Our designs encourage and support the introduction of new participants, challenging each golfer based on their skill-level, but more importantly, encouraging them to strive for increased shot-making abilities.
MIGD is engaged with developers that seek opportunities to provide inspirational golfing environments that serve their specific target markets. There is no doubt that the market is on the precipice of what could truly be a significant design period in golf course architectural philosophy, benchmarking new ideas against strategically proven principles. Ultimately, the success of this growth period will rely on development teams accepting sustainable design strategies that service the expectations of an increasingly diverse, educated and sustainably-driven market.
(Article by Cameron MacKellar – The Owner of MacKellar International Golf Design, the U.S)
Đăng bởi Vu Ngoc Mai
The article "Golf Course Design in Asia" was originally published on http://vietnamgolfmagazine.net/en/golf-course-design-in-asia/