What makes "Happy Golf" isn't necessarily the golf itself, but the people you play with.
Ah, the holiday season is upon us.
For Vietnamese, as well as foreigners strangely enough, that means Christmas, Western New Year and, of course, Tet. All the biggies. And even if you're not Christian, the spirit of the season is enough to keep you happy. Kids love it because it's a break from school.
As a youngster, this meant holidays, usually in Florida to escape the Boston winters, or to embrace the winter by throwing myself off the side of a mountain with two boards strapped to my feet. Suffice it to say that there mwere many trees with my face imprinted on them. My favorite flavor was bark. The better alternative for me was to strap two steel blades to my feet and chase a hockey puck around a frozen lake.
Trust me, Florida is better. There's palm trees, warm beaches and the ocean, and, of course, golf (yes, I know you were thinking I was gonna say 'girls in bikinis' didn't you!). Nope, sorry, golf was where it was at for me, aka Holiday golf with family and friends, or what the editors on Vietnam Golf Magazine calls "Happy Golf."
Sorry, but golf is never "Happy Golf" unless you make a hole-in one and win four automobiles in a tournament. But even then it's not really "Happy Golf" because when you see the tax on those you'll cry and sell three to be able to afford one.
The reason why is golf never "Happy Golf" is because, at its very core, golf sucks. But some days it sucks less and that's what keeps us coming back.
You can never be "happy" with golf. Not really. Even if you shoot the course record low score of 62, in the back of your mind there will be a little voice saying: "If that birdie putt on 16 rolled just a hair more, I would have shot 61."
See what I mean?
What makes "Happy Golf" isn't the golf itself, but the people you are with when playing that makes it enjoyable. There are some people who are just naturally a lot of fun to play golf with.
Here in Vietnam, there are two guys I always have a great round with, regardless of what I shoot, whom I will not mention by name, but loyal readers can figure it out and they probably know who they are. It's impossible to have a bad day with these two guys because their vast amount of positivity is overwhelming.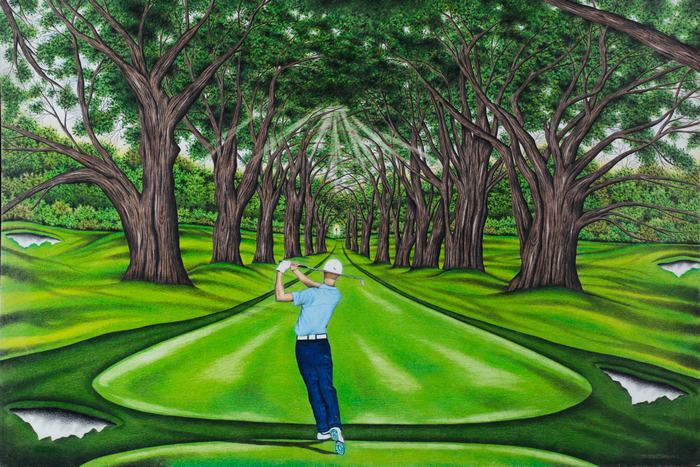 As a youth, I would always show up at the golf course alone and let the Starter pair me with whomever he wanted. Very seldom did I get paired badly. Most often I made new friends because of it. Some are still friends today (albeit long distance).
But, in my sunset years (I hate the term – in fact I hate getting old in general), I find that my best company when playing golf is myself. When I could get out there alone it was just me, the ball and chirping birds. Very peaceful. My happy place.
(A certain TaylorMade Rep just fell off his chair upon reading that and muttering: "Him, happy?" Yes, amigo. Actually happy, believe it or not).
When I was GM at Thu Duc, I would take the buggy home to pick up the wife for a fast nine holes after work. That too was "Happy Golf" even though I let her win more often than not, simply because I wanted her to have fun out there.
Playing golf with my wife and daughter is also "Happy Golf" because I enjoy watching them have fun. It's not about me. It's always been about others.
Those of us in the business become Club Pros because we want others to enjoy golf as much as we do. As I told my staff over the years, "When it comes to holidays, we work so others can play" and, to be honest, seeing people happy makes it a holiday for us as well.
So, in a nutshell, golf truly does mirror life. If you want "Happy Golf," don't look to the game itself and don't even look at the scorecard. Instead, look to yourself and those you surround yourself with.
I wish you a happy holidays, whoever ones you celebrate.
The article "Happy Golf's kindred spirits" was originally published on https://vietnamgolfmagazine.net/en/happy-golf-kindred-spirits/