On July 29, managing board of World Amateur Golfers Championship (WAGC) officially signed a partnership agreement to allow Tien Phong Joint Stock Commercial Bank (TPBank) to organise the tournament in Vietnam.
With this partnership, TPBank will be the sole organiser of WAGC in Vietnam, which is called "TPBank World Amateur Golfers Championship – Vietnam", for three years from 2015 to 2017.
The bank will also be in charge of selecting promising golfers for a national team to compete in WAGC finale, which will be held in Turkey's Belek Antalya from November 28 to December 5, 2015.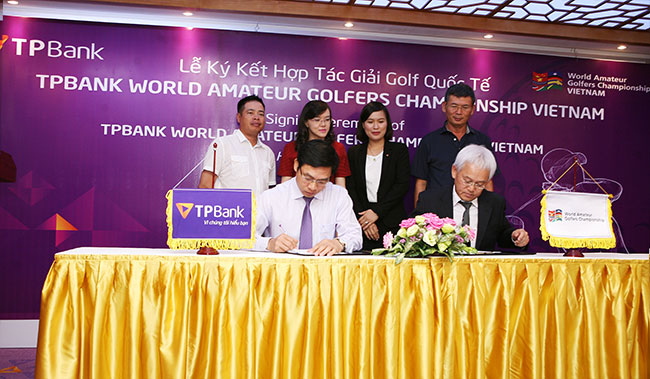 "Vietnam started to participate in organising WAGC since 2011 with support from Heineken. The tournament called "Heineken World Golfers Championship" and had been organised annually in Durban city of South Africa for four years," said Tian Loo, general director of World Golfers Championship Limited, organiser of WAGC in the world.
Since the contract between the company and Heineken expired from 2015, WAGC had to seek for new partner in Vietnam and found TPBank. "On behalf of WAGC, I would like to thank TPBank as well as all Vietnamese golfers for their supports," he shared.
At the event, vice general director of TPBank Bui Thi Thanh Huong also expressed her gratitude for being the first to organise WAGC in Vietnam. "Joining international tournaments in Vietnam shows TPBank's determination in embedding our brand to Vietnam's golf. We hope to contribute to lifting Vietnam amateur golf standard to match with the world's," she said.
Founded in 1995 by Sven Tumba, a Swedish sport legend, WAGC has been organised annually for 20 years and attracted thousands of golfers from over 40 countries around the world.
By Van Nguyen
The article "TPBank to organise World Amateur Golfers Championship in Vietnam" was originally published on http://www.vir.com.vn/tpbank-to-organise-world-amateur-golfers-championship-in-vietnam.html